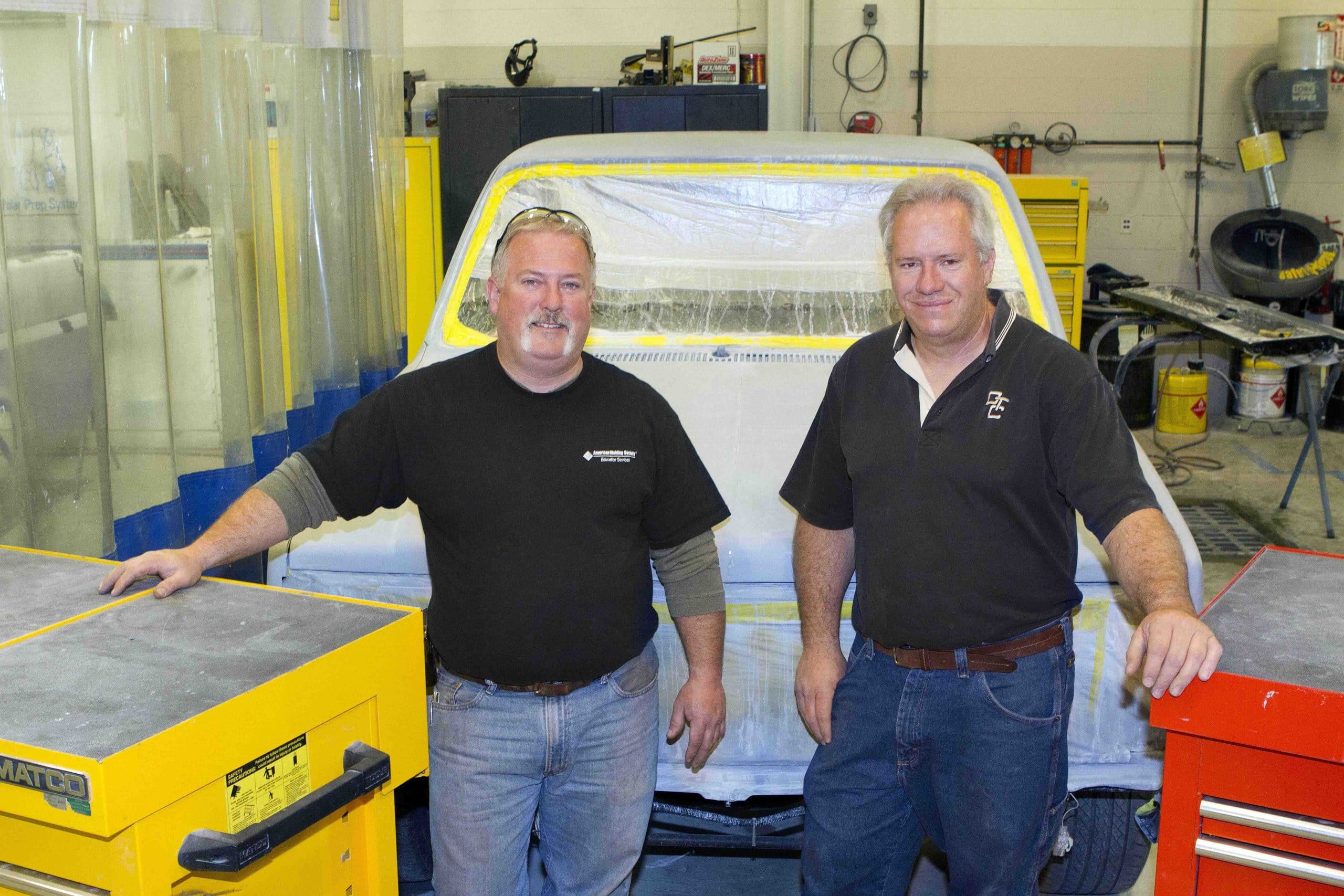 OTC faculty members Jim Bridwell (left) and Terry Pridgeon are looking forward to this year's Community Day event for very different reasons.
For Bridwell, an instructor in Welding Technology, it means offering welding repairs to the community in exchange for a donation to the March of Dimes. Over the past three years, the event has raised more than $3,000 for the local charity chapter.
For Pridgeon, just being involved in another OTC Car and Motorcycle Show is a big step from where he was over the Christmas holiday when doctors removed a cancerous kidney.
"I didn't know if I was going to see another car show," said the automotive refinishing instructor.
Bridwell and Pridgeon will be on hand April 28 for the third-annual Community Day that runs from 9 a.m. to 2 p.m. on the corner of National Avenue and Chestnut Expressway.
In addition to the car show and community welding day, the free event will offer a plant sale, various health screenings, live music, a kids' zone, lawn-mower blade sharpening, robot demonstrations and the Springfield-Greene County Mobile Library, among other things.
Bridwell, who has been at OTC full-time since 1999, said the welding day began contributing to March of Dimes after a motorcycle club he belonged to started giving money to the local charity. After no fundraiser was held one year, Bridwell decided to help by using welding day as a way to raise money for the charity.
"We'll repair everything from lawn ornaments to baker's racks to putting the legs back on those flamingos," Bridwell said.
Pridgeon, 51, who has been at OTC six years, will find special meaning in this year's event as he recovers from his surgery.
During winter break in December, Pridgeon said he wasn't feeling good when he went to the doctor. He was diagnosed with kidney cancer and one was removed two days after Christmas.
"The prognosis is good. Everything looks a little brighter. If it hadn't been for family and friends, I don't know where I'd be," Pridgeon said.
For more information on Community Day, go to www.otc.edu/communityday
Steve Koehler is coordinator of media relations at Ozarks Technical Community College.
Contributors
College Director of Communications
Phone: 417.447.2655
Email: publicinfo@otc.edu
Steve Koehler
Coordinator of Publications
Phone: (417) 447-2666
Email: koehlers@otc.edu