A group of OTC instructors and students received honors from the Missouri Community College Association at its annual Phi Theta Kappa and Excellence in Teaching Awards Luncheon, held this spring in Columbia, Mo. Every year, MCCA presents the following awards to outstanding community college instructors and students from across the state:
Excellence in Teaching Awards
MCCA honors outstanding community college educators each year with the Award for Excellence in Teaching. This award is presented to an exemplary teacher from each of Missouri's community colleges and campuses.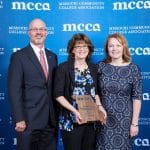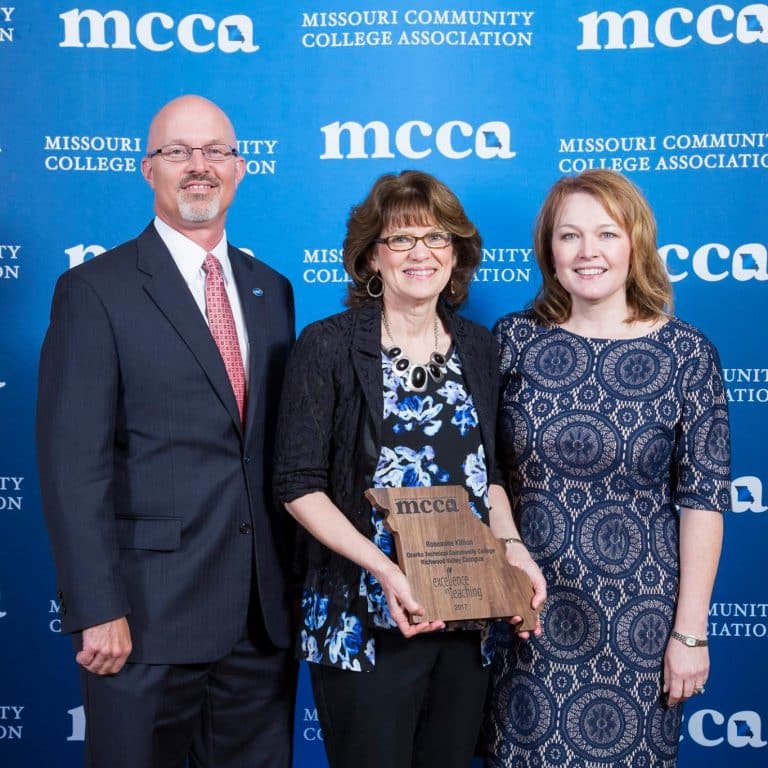 Roseanne Killion
OTC Richwood Valley Campus
Roseanne Killion joined OTC as a math instructor in the fall of 2008. Prior to that, she taught high school math for four years in Georgia and then went on to teach math for 18 years at Missouri State University. Her peers comment that she is a truly extraordinary educator who cultivates a classroom environment that facilitates her students' critical thinking skills. Her students remark that she is patient and willing to give them all the time she has to offer to help them excel in the classroom and beyond.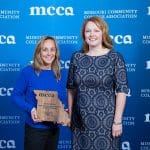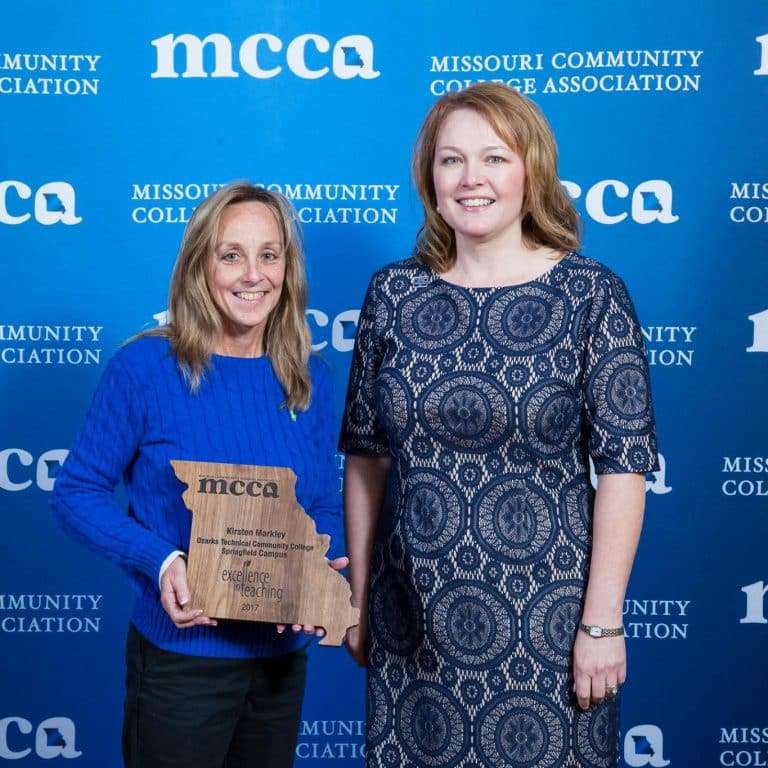 Kirsten Markley
OTC Springfield Campus
For more than 20 years, Kirsten Markley has worked in the computer science industry as a contractor developer for Texas Instruments and Otis Elevators. Currently, she works as a full-time instructor in OTC's Computer Information Science department. She also serves the college as the Faculty Senate's communications coordinator. Ms. Markley's peers comment that she consistently gives 110 percent to her job. Her students benefit from both her industry background and her willingness to create an engaging learning environment.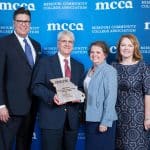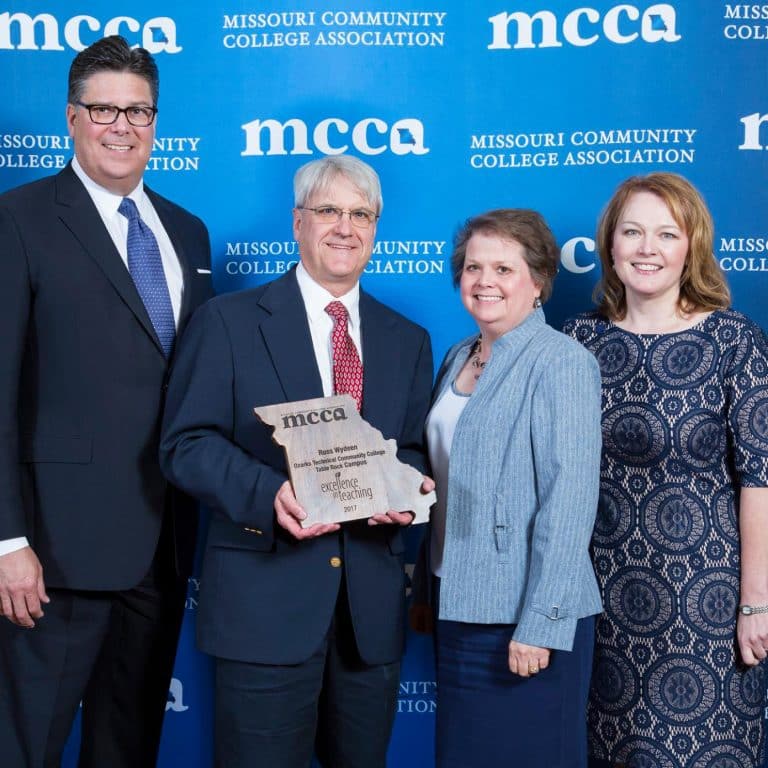 Russ Wydeen
OTC Table Rock Campus
Russ Wydeen joined OTC as a math instructor in the fall of 2007. Prior to that, he taught high school mathematics for 12 years at Waukegan High School. Mr. Wydeen's students characterize him as caring, funny, and as an instructor who holds them to high standards. They comment that he is always available for tutoring and has a clear passion and commitment to student success. Mr. Wydeen presents his course material in a way that allows students to connect and apply it to the real world.
Student Leadership Awards
Student Leadership Awards are presented annually to an exceptional student leader from each of Missouri's community colleges and campuses. Recipients are identified by their college chancellor and chief student affairs officer.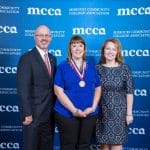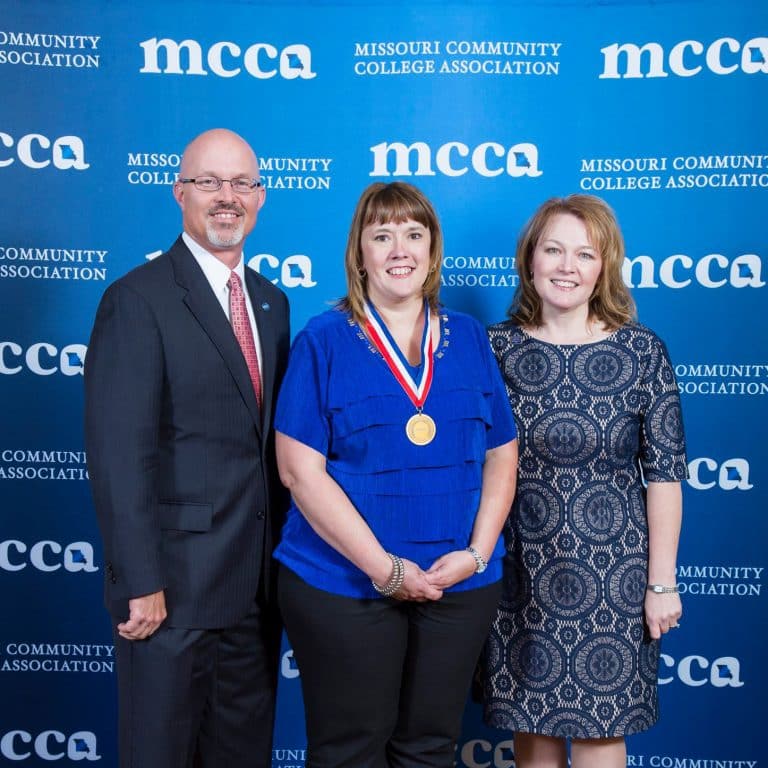 Elizabeth Aley
OTC Richwood Valley Campus
Elizabeth's dedication to her studies at OTC is exemplary. She consistently gives her best effort for every assignment and responsibility she receives. Elizabeth was inducted into Phi Theta Kappa in October 2015 and is a recipient of the Jeanette Rankin Foundation national scholarship for single mothers.
During her years at the OTC Richwood Valley Campus, Elizabeth discovered that she could be a successful college student, and, as her confidence grew, so did her aspirations. Elizabeth graduated with her Associate of Arts in May 2017. She plans to attend Evangel University to earn her bachelor's degree in business administration.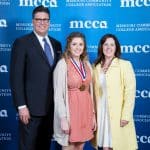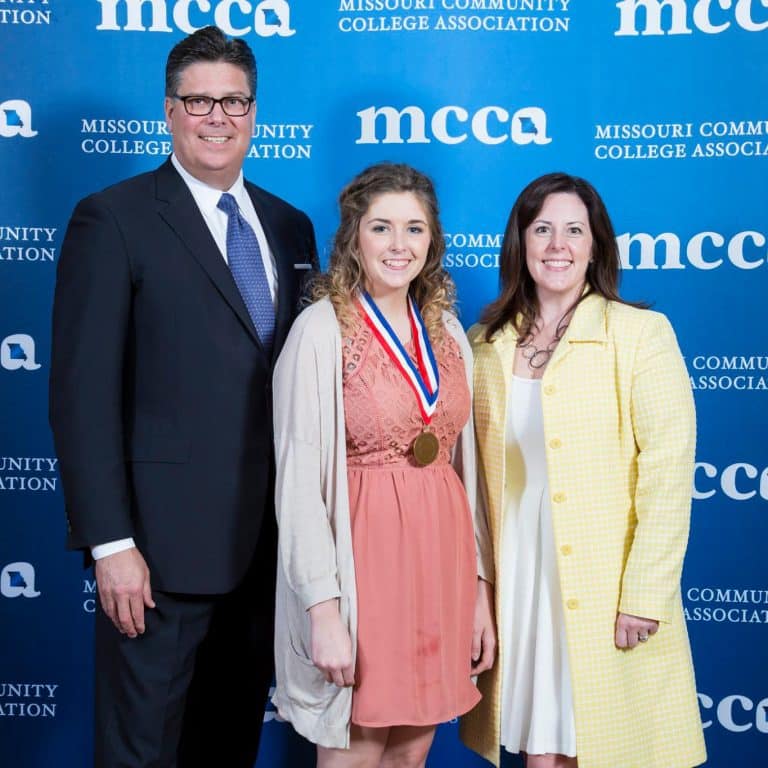 Jessie Peterson
OTC Table Rock Campus
Jessie Peterson is a graduate of Branson High School and a freshman at the OTC Table Rock Campus. She is currently working toward her Associate of Arts in Behavioral Sciences and plans to transfer to Missouri State University where she will major in social work. Ultimately, Jessie hopes to serve children and families by working with the state foster care system.
As a student ambassador at the Table Rock campus, Jessie serves as the campus receptionist where she greets students and guests, answers questions, and offers assistance. While in high school, Jessie was an active member of Future Farmers of America (FFA) and the National Honor Society. Jessie still maintains a leadership role as a FFA state officer, and travels to different areas of the state to advocate for agriculture.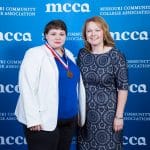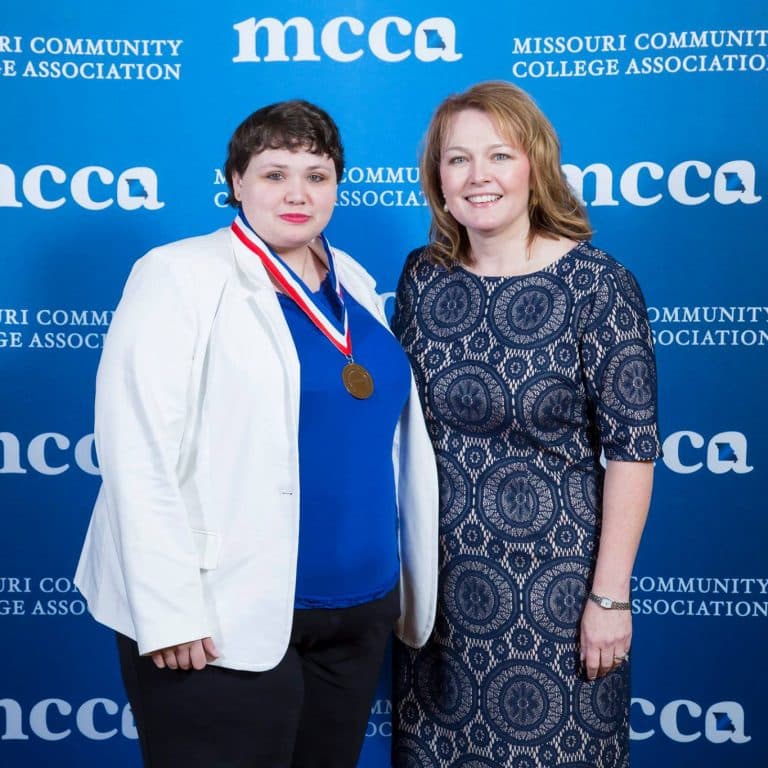 Anna Strait-Schmitz
OTC Springfield Campus
For the past year, Anna has served as the vice president of college project for the Alpha Psi Tau Chapter of Phi Theta Kappa at OTC. Under her leadership, the chapter hosted a campus holistic health fair with vendors from the community including a Buddhist monk. The fair focused on alternative and traditional methods of healing and health. Anna developed a strong working relationship with the OTC administrators and staff to utilize rooms, complete the necessary paper work and insurance documentation, and organize marketing and graphic design projects necessary for the project. She was named Distinguished Chapter Officer at the Phi Theta Kappa Missouri Regional Convention, and she is in the running for recognition at the international level.
Phi Theta Kappa All-Missouri Academic Team Recognition
Missouri was the first state in the nation to honor outstanding Phi Theta Kappa scholar-leaders with a state academic team program. The tradition began in 1994. Today, 36 other states have adopted the idea and made it their own.

Nora Browne
"As a child, I struggled through school. In kindergarten, I remember crying in the bathroom because I couldn't count to 100. In first grade, I was pulled out of the classroom to do one-on-one lessons. I was unable to read and the teachers could not understand why. It was not until second grade that my neighbor, a former elementary school teacher, sat down and taught me. I was later diagnosed by a private doctor in sixth grade with dyslexia. By this point, I had taught myself how to learn within the classroom. The special education teachers that surrounded me after my diagnosis helped so much. I graduated high school with a C average. After high school, I received an interesting job offer. I was given the opportunity to work at a private school for children with autism. At the time, I was unaware how much this job would change my life. I had no idea I would be so passionate about working with children with autism. I worked in this position for five years and left with the desire to become a Speech Pathologist. During my time at OTC, I became proficient in American Sign Language, and I have decided to use my skill to work with non-verbal autistic children. I am on track to receive my associate degree and transfer to a four-year university."
Caleb Kerr
"I was born in Springfield, Missouri and have lived in Nixa all of my life. I attended Nixa High School where I played varsity football and marched in the band. During my time in high school, I also participated in chamber choir, Fellowship of Christian Athletes, track, Athletic Leadership Council, concert band, honor society and the math team. I graduated Nixa with a 4.0 GPA and enrolled at OTC in the fall of 2015. I am now in my third semester at OTC where I am working to complete my associate degree in biology before transferring to Missouri State University. I am an acting member of my school's Phi Theta Kappa chapter. This fall, I plan to transfer to Missouri State University where I will major in biology and minor in chemistry. Upon receiving my bachelor's degree from MSU, I plan to apply to medical school at the University of Missouri-Kansas City. There, I hope to obtain my medical degree and eventually specialize in anesthesiology. After that, I hope to complete my residency and then move on to practice medicine somewhere in the state of Missouri."
Aaron Dalton
"In my past, I have started a business and traveled around the United States doing pyrotechnic performances for music festivals. I also made and vended different juggling supplies. Because of my desire to settle down and have a family, I stopped traveling and started to pursue a degree in physics and electrical engineering because I have a lot of interest in quantum theory as well as electronics. In April of 2015, my fiancé and I had a child, and, due to the added responsibility and the fact that I am the sole supporter of the household, my 4.0 GPA went down to 3.765. My fiancé was recently diagnosed with multiple sclerosis, and although it has made things a lot harder, I am a very committed and responsible person, so I know as long as I continually progress, things will be fine. I hope to do work in the electrical engineering field while I continue on toward my Ph.D. in physics. I am also very interested in neuroscience, so I am looking for research opportunities involving electroencephalograms (EEGs). In my free time, I am designing my own EEG from scratch and would consider going into the medical equipment engineering field. I feel that my degree has many possibilities, and I am just waiting for the right door to open. I was recently accepted into the Electrical Engineering/Physics cooperative programs at Missouri S&T and Missouri State University."
Morgan McCart
"I graduated from Fair Grove High School in 2015, and I am currently a student at OTC. I chose to attend OTC because I was able to receive two years free on the A+ program. After OTC, I plan to transfer to a four-year institution to obtain a bachelor's degree in Child Life. I also plan on continuing my education by obtaining my master's degree. I am the youngest of five children, and the first to go to college."
Joshua Craft
"I don't remember a lot of my past because I was involved in a serious motorcycle wreck in 2014. I received a traumatic brain injury and was in the Neuro Trauma Intensive Care Unit with what doctors thought was little hope of survival. If I did survive, the doctors said that I would be in a vegetative state for the rest of my life. Before my wreck, I was very into health and fitness, and was involved in Mixed Martial Arts. I had taken some college classes before, but I didn't take it very seriously. After being given a second chance after my wreck, I became much more dedicated to making changes that will help set myself up for the future. School is very difficult for me and I spend a lot of time working on my classes. Nothing in life worth doing is ever easy though, and I believe that school is a valuable and wise use of my time. My future goal is to go to school for a degree in psychology to become a disability policy social worker. It's my goal to help other people with disabilities."
Kristina Gonzalez
"I was born and raised in a small Siberian town in Russia. My parents made sure that I was always dedicating my time to useful things: studying hard for school, doing homework, and having extra classes with tutors in English and calculus four times a week. I also attended art school for nine years and graduated with the Arts and Crafts diploma. As of today, I have been attending the OTC Table Rock Campus for two years. Being born in Russia, the vast variety of classes offered through this degree helped me understand different aspects of life in the United States of America: I understand how the American government and economy work, and I am familiar with the country's history and culture. I am a full-time student so I can dedicate almost all of my time to studying, but I am also a wife. My husband and I are both working toward securing a brighter future for ourselves. Many young families have to deal with cars breaking down or their inability to afford proper health care, rent, groceries and bills. However, I am very thankful that I have the opportunity to go to school, knowing that there is help available to me. And when the future we are working toward becomes reality, I want to be one of those people who helps someone else's dream come true."