Changes are coming to the Free Application for Federal Student Aid (FAFSA). But don't worry; these changes were put in place to make the FAFSA process easier. Here's what you need to know.
Most importantly, you can now submit your 2017-18 FAFSA as early as Oct. 1, 2016. The earlier submission date will be a permanent change, enabling you to complete and submit your FAFSA as early as Oct. 1 every year.
In addition to filing your FAFSA sooner, you will also report your income and tax information from an earlier year. For example, on the 2017-18 FAFSA, you will report your 2015 income and tax information, rather than your 2016 income and tax information. This change will make the FAFSA easier because you'll already have done your taxes by the time you fill out your FAFSA, and you may be able to automatically import your tax information into your application.
The FAFSA is your ticket to receiving several forms of financial aid, including grants, loans and work study opportunities. It's important to file as early as possible. You can learn more about applying for the FAFSA online at otc.edu/financialaid.
For additional information about the new FAFSA submission time frames, click here for an in-depth fact sheet from the U.S. Department of Education. The following table also provides a helpful summary: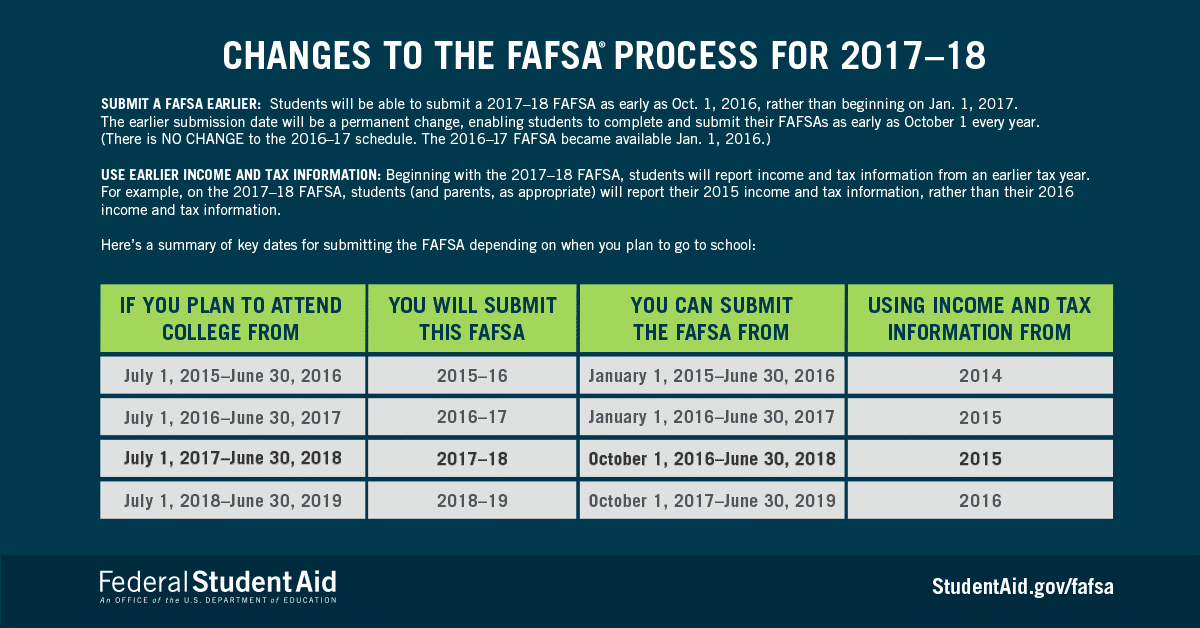 Need some help? OTC will host FAFSA Frenzy the afternoon of Sunday, Nov. 13 at its Springfield and Waynesville locations. At this event, you can get your FAFSA questions answered and receive one-on-one help with your application from a financial aid professional. Be sure to save the date!