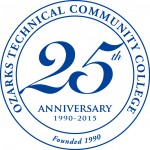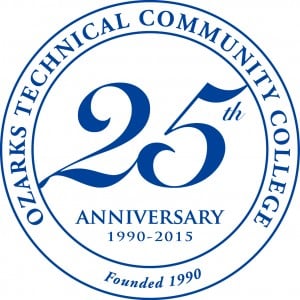 Ozarks Technical Community College will commemorate its 25th anniversary with a celebration on Friday, April 3 at 2:30 p.m. on the student plaza of the OTC Springfield Campus.
The celebration marks the election on April 3, 1990 when voters established the Junior College District of Central Southwest Missouri. In the fall of 1991, Heart of the Ozarks Community Technical College opened its doors to 1,198 credit-seeking college students. Since its inception, OTC has removed the "heart" from its name, opened five additional locations, which includes a robust online program, and has grown to serve more than 15,000 students per semester.
"In the last quarter century, OTC has played an integral role in training our community's workforce and making it possible for students to further their educational goals through our accessible, affordable programs," said Dr. Hal Higdon, chancellor of Ozarks Technical Community College. "Our 25th anniversary celebration is the perfect opportunity to reflect on our humble beginnings, thank those involved in our continued success, and look toward a bright and promising future."
Chancellor Higdon will lead the ceremony on the plaza that will feature remarks from President Emeritus Dr. Norman K. Myers and Board of Trustees Vice Chairman Chip Sheppard. College staff will unveil the contents of a time capsule buried in 2000, and items will be presented for a new time capsule to be opened at the college's 50th anniversary in 2040. A cake and punch reception will be held in the Information Commons building after the ceremony.
Learn more about OTC's 25th anniversary at 25.otc.edu.