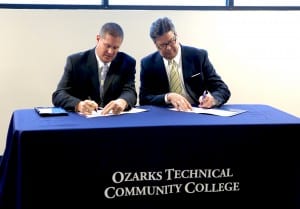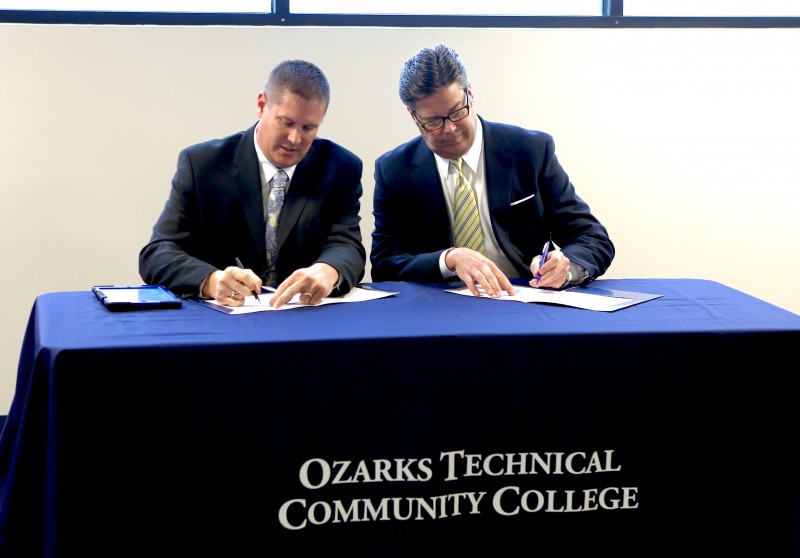 The Ozarks Technical Community College Table Rock Campus and the Hollister School District have partnered to offer new educational opportunities to Hollister students. OTC Table Rock Campus President Cliff Davis and Hollister School Superintendent Dr. Brian Wilson signed a memorandum of understanding today, Thursday, March 26.
The agreement will allow Hollister students who are at least 16 years old to enroll in up to four classes at OTC each semester as well as take summer courses.
According to Hollister School Superintendent Dr. Brian Wilson, "While we've had students taking some OTC classes for the past several years, this is a major game changer for our kids. An extremely motivated student could receive his or her high school diploma and an associate degree from OTC on the same day."
This partnership is the culmination of months of discussion between the two entities. Hollister students pay the in-district tuition rate of $95 per credit hour for general education classes. Students outside the taxing district pay $142.50 per credit hour.
Students can begin classes as early as summer 2015 under the new program. The school district will assist in funding each student's first class to encourage participation in the program. High school counselors and teachers will mentor and advise students as they begin to integrate college-level coursework.
"Today's agreement continues the strong relationship between OTC and Hollister Public Schools," said Cliff Davis, OTC Table Rock Campus president. "We're very thankful to Hollister for its partnership as OTC continues to fulfill its promise of providing an affordable, accessible college education to local students."
[vcex_image_grid grid_style="default" columns="4″ posts_per_page="-1″ thumbnail_link="lightbox" lightbox_caption="true" custom_links_target="_self" img_size="wpex_custom" img_crop="center-center" image_ids="5503,5500,5499,5502,5504,5501″ img_width="800″]