This year's flu season is the worst we have seen in nearly a decade. To help stop its spread, OTC nursing student Crystal Smith has some helpful tips to share.
Initially, she says it can difficult to tell if you are coming down with the flu, or if you are simply experiencing the common cold. If you are unsure of the difference between the two, check out this handy chart from the Centers for Disease Control and Prevention.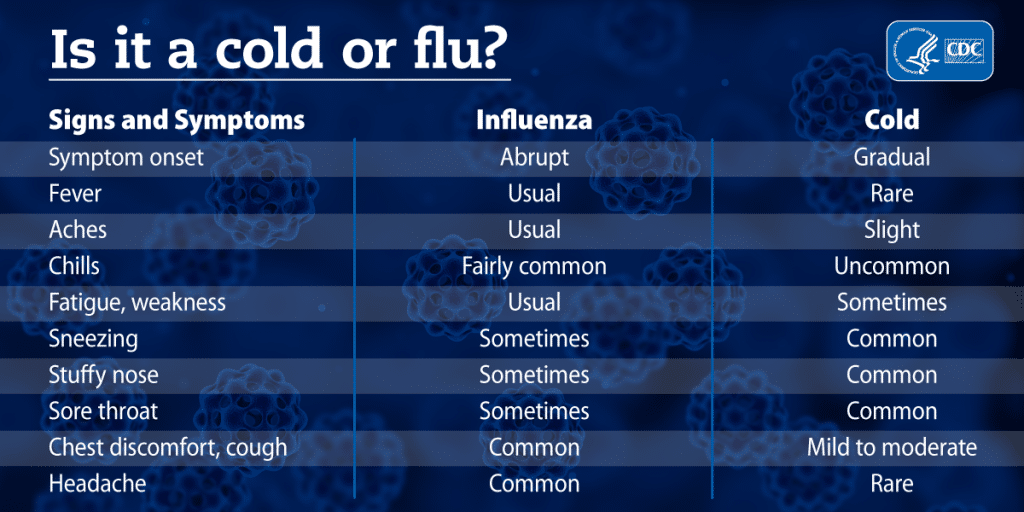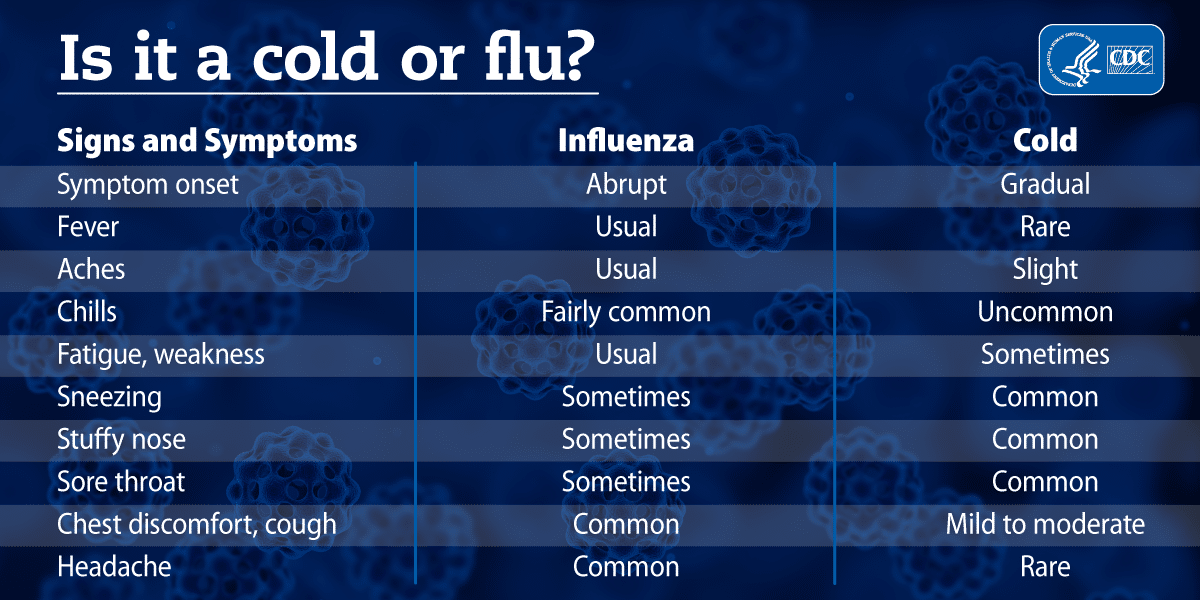 Crystal explains that influenza is spread by droplets from a cough or close interaction with others. It can also be picked up from everyday objects you might  touch (door handles, sink faucets, etc.). She also mentions that some people may be at higher risk for severe complications from the flu including hospitalization and death.
To stop the spread of the flu, follow these helpful tips:
Vaccinate anyone 6 months of age or older.
Wash hands with soap and water or alcohol-based hand sanitizer.
Don't touch your face.
Avoid contact with sick people.
Wear a facemask.
Cover coughs and sneezes with a tissue.
Clean and disinfect objects that may be contaminated.
Eat healthy foods and get plenty of sleep to keep your immune system in good shape.
But if – despite your best efforts – you end up catching the flu, Crystal says you need to stay home and rest. Do not return to work or school until you are fever-free without medication for 24 hours.
"Influenza is a virus, which means it cannot be treated with antibiotics," Crystal explains. "A physician may prescribe an antiviral medication for you that will help decrease the length and severity of the illness. This medication is most effective if started within 48 hours of the first symptoms."
Crystal adds that other flu treatments focus on symptom relief. Here is a list of home treatments to follow if you do come down with the flu:
Drink plenty of water to help loosen secretions and prevent dehydration.
Rest. Rest. Rest.
Treat fever, body aches, headache and sore throat with Tylenol or ibuprofen (unless your physician recommends another treatment).
There are over-the-counter flu medications that may help with symptom relief but be sure to get any medications approved by your physician – especially if you have any other medical conditions.
For more information on how to treat or prevent the flu, visit cdc.gov/flu.
About Crystal Smith
Crystal Smith began her educational journey at OTC when she was 18 years old. She initially graduated from the college's Nursing Assistant program with no plans to continue her education beyond that credential. However, she eventually went on to earn her Practical Nursing license, and this year, Crystal will graduate with her Associate of Science in Nursing. She looks forward to beginning her journey as a registered nurse.
Crystal currently works at the local Veteran's home to care for our nation's heroes. Outside of school, she enjoys painting, shopping with her daughters, and singing with her husband.
She says, "Thanks to OTC, I am the first to obtain a college education in my family. My life is going places I never dreamed possible – start here, go anywhere!"
About OTC's Nursing Programs 
OTC's Practical Nursing program teaches students to provide basic nursing care for patients of all ages. The program focuses on bedside practice with substantial clinical rotations. Licensed Practical Nurses work in nursing homes, schools, physician offices, home health agencies and in some hospitals.
OTC's Associate of Science in Nursing program allows Licensed Practical Nurses the opportunity to advance to the next level in their nursing careers. The 36-week program is for Licensed Practical Nurses who want to become Registered Nurses. Registered Nurses may choose to work in a hospital setting, specialize in a specific area, travel, teach or work in research.
More information about OTC's nursing programs can be found at otc.edu/alliedhealth.