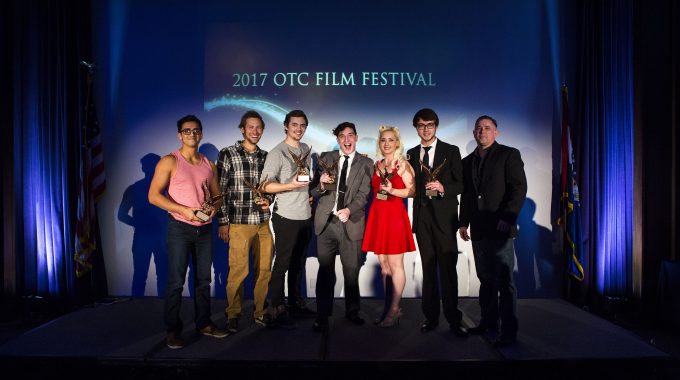 OTC Film Festival winners announced
And cut — that's a wrap for OTC's first-ever film festival. Nineteen teams competed for 48 hours straight to create a 5-minute film. The catch? Each film had to contain a set of creative elements that included specific visual cues, props, lines of dialogue and music.
You can view the films in their entirety here. Keep scrolling for the complete list of winners and photos from the event. Congratulations to all of our participants!
Best Poster: Tris Marie Walker
Nominees
R.T. Baptiste & P.A. Nolte – Superhuman Resources
Micah Coss – AM1PM
Tris Marie Walker – The Appointment
Best Female Performance: Britany Clevenger
Nominees
Brittany Clevenger for It's a Boy
Emily Day – One Day Left
Ka Tesha Fry – One More Day
Best Sound: Tarran Malam
Nominees
Brittany Clevenger, Matthew Winston, Laura Hull – It's a Boy
Emily Day & Ivie Macy – One Day Left
Tarran Malam – The Appointment
Best Screenplay: Tarran Malam
Nominees
Brittany Clevenger, Matthew Winston, Laura Hull – It's a Boy
Robert Descanio – Talk a Walk
Tarran Malam – The Appointment
Best Editing: Konner Cloepfil
Nominees
Nick Carper – Sketch
Konner Cloepfil – AM1PM
Tarran Malam, Thomas Romainville, Mason Finnel – The Appointment
Best Male Performance:  R.T. Baptiste
Nominees
R.T. Baptiste – Superhuman Resources
Mickey Stone – The Appointment
Mathew Winston – It's a Boy
Best Cinematography: Thomas Romainville
Nominees
Micah Coss & Nic Wiley – AM1PM
Arther Davis – It's A Boy
Thomas Romanville – The Appointment
Best Director: Nick Carper
Nominees
Nick Carper – Sketch
Tarran Malam – The Appointment
Michael Russel – It's a Boy
Best Film: The Appointment
Nominees
AM1PM
The Appointment
It's a Boy
One Day Left
Sketch
Faculty/Staff Favorite Winner:
The Appointment