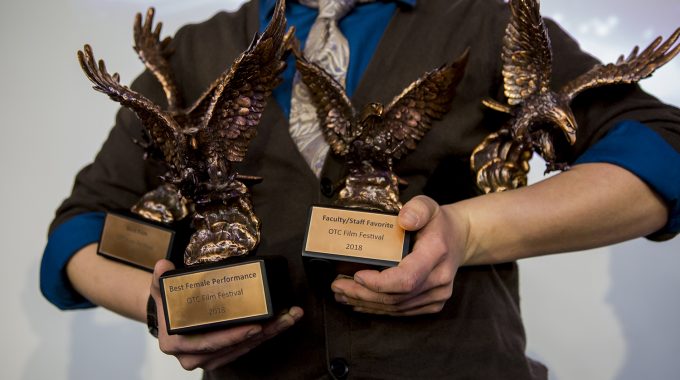 OTC 2018 Film Festival winners announced
And cut! That's a wrap for OTC's second-annual film festival. In total, 31 teams competed under a tight deadline to create a 5-minute film. The catch? Each film had to contain a set of creative elements that included specific visual cues, props, lines of dialogue and music.
You can view the submitted films in their entirety here. Keep scrolling for the complete list of winners and photos from the event. Congratulations to all of our participants!
2018 OTC Film Festival Winners
Best Cinematography
Addam Benton for "Run"
Best Director
Collin Yung for "Problematic Meat"
Best Editing
Phillip Nolte, Jim Owens and Richard Baptiste for "My Brother's Keeper"
Best Female Performance
Rachelle Hedgespeth for "The Silence Screams For Connection"
Best Male Performance
Ben Chronic for "The Silence Screams For Connection"
Best Poster Winner
Savannah Satterfield for "News Drama"
Best Screenplay
Tarran Malam & Mason Finnell for "Push"
Best Sound
Kelly Morrow for "The Mansion"
Faculty/Staff Favorite
"The Silence Screams For Connection"
Best Film
Ben Chronic for "The Silence Screams For Connection"