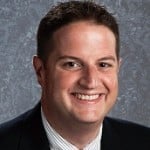 Dr. Matthew Hudson, former Springfield Public Schools administrator, has been named the Dean of Technical Education for Ozarks Technical Community College. In his new role, Hudson will oversee the 20 technical education programs offered by OTC, which include automotive technology, culinary arts, computer information science and electronic media production. He will also oversee the Middle College, Career Center and Early Childhood Education programs.
"We are excited to welcome Dr. Hudson to OTC," said Dr. Hal Higdon, chancellor of Ozarks Technical Community College. "Our technical education programs continue to fuel southwest Missouri's economic growth. Dr. Hudson's extensive background in administration and educational leadership will help us continue to provide high-quality, accessible programs that meet the needs of our students and area employers."
Hudson, a Springfield native, has worked for Springfield Public Schools since 2000. He taught English and business education at Hillcrest High School for five years and went on to serve Parkview High School as assistant principal of business services for eight years. Most recently, Hudson worked for the SPS district as coordinator for secondary operations and district attendance coordinator. In these roles, Hudson administered the district's satellite programs, which included the Mercy Health Sciences Academy, WOLF and E-Learning programs. He has also taught as an adjunct instructor at OTC and Drury University.
"OTC has emerged as the leader of technical education and workforce development in southwest Missouri," said Hudson. "I look forward to developing innovative and relevant programs that ensure our students graduate with the skills and knowledge sought by employers."
Hudson earned bachelor's degrees in English and secondary education from Drury University. He holds a master's degree in education administration from Missouri State University and a doctorate in executive educational leadership from St. Louis University. The OTC Board of Trustees approved Hudson's hire in May 2015, and he began his new role as dean of technical education on Monday, July 6.