Two years, three cars and 33,000 miles on the road ─ that's what it took for Ehlaina Hudson to earn her drafting and design degree from OTC. Yet, despite all the costs associated with her daily commute, Ehlaina insists that OTC was still more affordable than the local college options in her home state of Arkansas.
"I initially started looking into OTC because of its cost," Ehlaina explained. "I was trying to find something affordable but also something flexible enough so I could keep the job I had at the time."
During her time at OTC, the 20-year-old worked 35 hours per week at a convenience store and took course overloads every semester. Her daily commute from Oak Grove, Ark. to Springfield, Mo. took 3 hours round trip, which is why Ehlaina says she went through three cars in the two years it took for her to earn her degree.
"I would wake up at 6 a.m. every morning to make it to OTC by 8 a.m.," she recalled. "And then, after class, I would drive home at 3 p.m., grab something to eat, and go to work until 11 p.m. or midnight. I basically lived off of caffeine," she added with a grin.
Ehlaina didn't start at OTC with a drafting and design degree on her mind. In fact, it was her fiancé's father who originally convinced her to check out the program.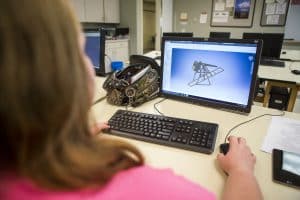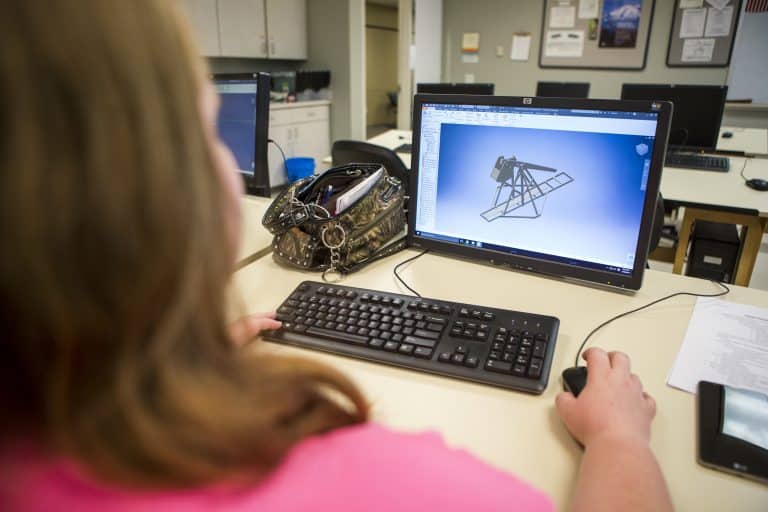 "I've always loved math, and I love art ─ it's one of my favorite things to do in my spare time," she said. "And once I started looking into the program, I realized it's the best of both worlds. I get to be an engineer and a designer."
It took Ehlaina some time to find her specialty within the drafting and design program, but her instructors would often bring in guest speakers, take field trips to local plants, and connect students to local internships within the industry. Ehlaina said these factors played a huge role in her decision to become a mechanical drafter.
"I thought about going into architectural drafting, but a paid internship helped me realize it just wasn't for me ─ it's pretty repetitive," she said. "And I didn't think mechanical drafting was something I could do at first. But after a few field trips to local plants, it all started to make sense to me."
And once Ehlaina found her specialty, it didn't take long for her to land a job in the field.
"I accepted a job at PlayPower prior to graduation, and I started working there the Monday after commencement," she said.
PlayPower, Inc. is a holding company located in Monett, Mo. The company designs and manufactures playground equipment for big brands including Little Tikes, Hags and McDonald's. In her current role, Ehlaina provides technical support for the company.
"Everyone is really nice, and I've enjoyed getting to use the systems that I learned in college," she said. "I'm still currently in training, but thanks to OTC, I'm ready to get to work."
Ehlaina is also thrilled about spending less time in the car every day. She recently moved to Monett where her commute to and from work is only 20 minutes round trip.