Thanks to Springfield's inaugural Hack 4 Good event, a group of OTC students can proudly say "there's an app for that," when people ask how they can share local resources with Springfield's homeless population.
OTC computer information science students, graduates and instructors ─ along with area engineers, developers, entrepreneurs and technologists ─ volunteered around the clock this past weekend (Dec. 10 and 11) to build prototypes for an app that will soon connect homeless men and women to vital resources including food pantries, shelters and clinics.
"You don't think about homeless people having cell phones," said Kelly Stoops, CIS student. "But the fact is, many of them have smart devices. They might not have a data plan, but they have access to Wi-Fi."
Kelly and his wife, Sara (also a CIS student at OTC) were members of OTC's hackathon team led by Tiffany Ford, CIS department chair.
Tiffany knew she would face several challenges leading up to the hackathon. Not only did she have to find a group of students willing to give up their weekend, but she also had to find students willing to do so the weekend before final exams.
"The timing of the event was rough for our students, and a lot didn't feel like they were ready to perform at that level…but I knew they could do it," she said.
Tiffany and her team had two planning meetings prior to the hackathon to discuss the firm requirements of the app and collect data from local charities.
"Many organizations work with specific demographics, and we had to gather that information up front," Tiffany said. "We asked lots of questions like, 'Who does this organization serve?' 'When do they allow intake?' 'How does one get there?'"
Kelly noted that another factor of the planning process involved compiling the sheer quantity of services offered in the area.
"A big challenge for these charitable organizations is communication ─ especially when it comes to new grants," he said. "Services can grow or change, so the app was designed to answer the questions people might have without digging and sorting or googling for the information they need."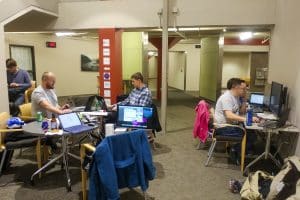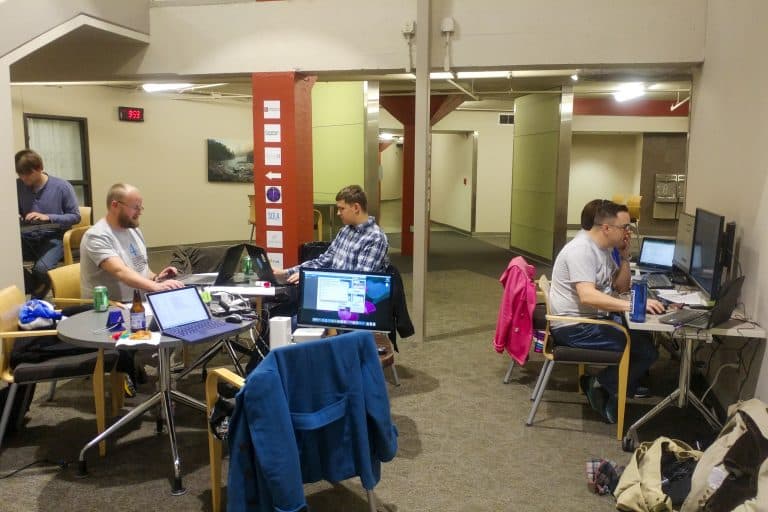 At the event, OTC was one of four teams that raced against the clock to develop an app prototype in 24 hours.
"By the time we finished, I felt a combination of exhaustion and exhilaration," Sara said. "24 hours is probably the tightest deadline I've worked under, but that ─ combined with having to think quickly on our feet to solve the problems we encountered ─ was probably the most challenging and rewarding part for me."
Kelly agreed, "That's how I felt too. And not only because we had something to show at the end, but also because we got to see how our prototype matched up with the other professionals at the event."
Once the teams' presentations were finished, a panel of judges ranked the prototypes based on their user interface, creativity and execution. OTC's team came in second place overall for its app concept and design.
"This was a really challenging competition since the other teams were comprised of professional developers," Tiffany said. "I am really proud of how our team came together to produce something that achieved second place. I think our biggest advantage was that everyone came from a common background for technology since we all learned on the same curriculum."
Both Kelly and Sara agreed that OTC's primary strength was teamwork.
"Because we were 'Team OTC' we got started faster," Sara noted. "Other teams spent time in the getting-to-know-you phase, but there's a certain level of trust established when you're working with people you already know."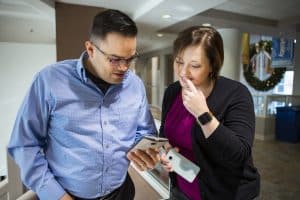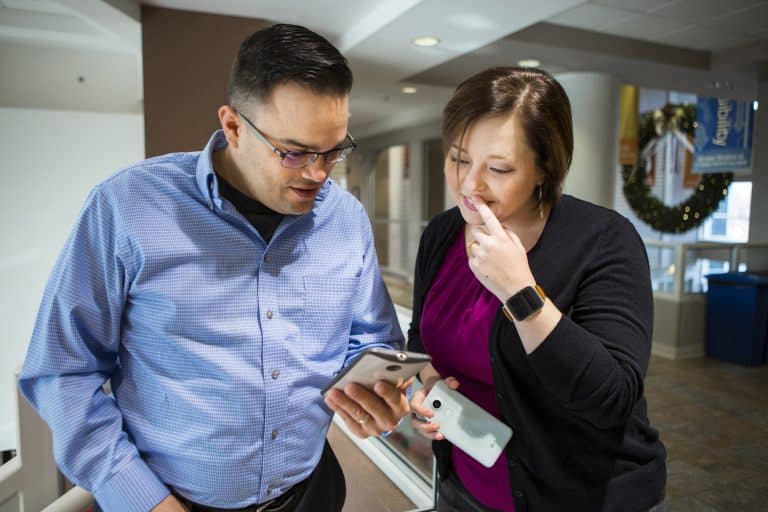 Kelly and Sara will graduate with their A.A.S. in Computer Information Science together in May. They look forward to earning jobs in a new career field that will provide more opportunities for their family.
"The best thing about OTC's CIS program is that it teaches you how to learn." Kelly said. "You learn how to find resources and leverage those resources to solve problems. Plus, thanks to the encouragement from many of our instructors to learn and connect outside of their courses, we'll graduate with great connections in Springfield."
Sara added, "As much as everyone hates group programs and presentations, they are very valuable skills that we learned thanks to the CIS program. These skills will definitely help us stand out as candidates when we start looking for jobs."