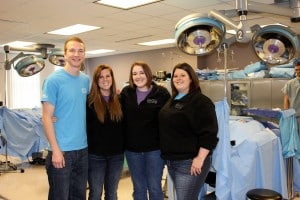 A group of four surgical technology students from OTC won first place in the 2015 Missouri Association of Surgical Technologists Scrub Bowl competition during the annual MO-AST conference in March.
The group defeated seven teams from across the state of Missouri to take first place. OTC students have won this competition for three years in a row. 
We would like to congratulate OTC Scrub Bowl team members: Katie McFarland, Julie Messenger, Katelyn Grider and J.C. Jones — way to represent OTC!
After snapping the team's photo, we learned that the entire class is graduating in May, so we snapped their photos, too.
Congratulations to the Surgical Technology Class of 2015!
Click here if you would like to learn more about OTC's Surgical Technology program.