OTC automotive student Sara Gates likes fixing cars and breaking stereotypes. The 20-year-old Breaking Traditions award winner and scholarship recipient is in the United States Marine Corps. She plans to earn her associate degree in automotive technology upon her return from a nine-month deployment to Kuwait. She leaves with her unit early next month.
"After I graduate with my automotive degree, I would also like to earn degrees in diesel mechanics and welding," she said. "Eventually, I'd like to open my own shop that works on both diesel engines and standard gasoline engines. I want to hire skilled veterans, especially women. It's difficult for them to find jobs in this field."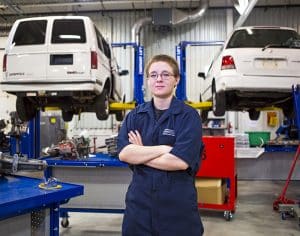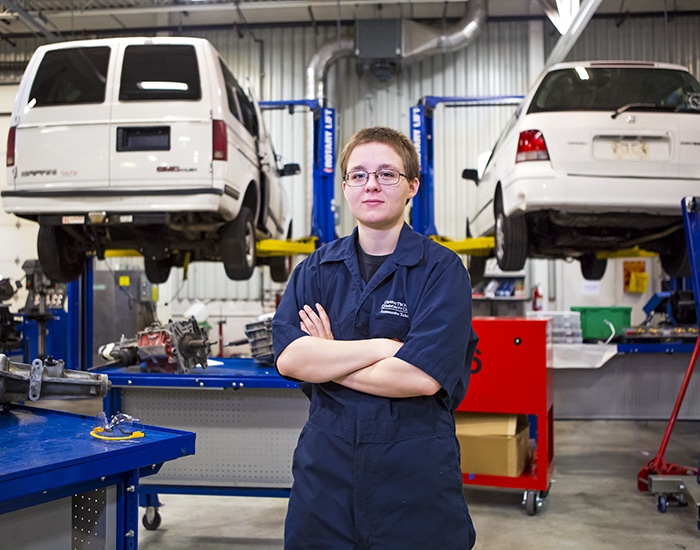 The Arkansas native said her passion for cars began as a child when her father would take her to the Good Guys car show in Des Moines, Iowa. She made the decision to pursue an automotive degree after the transmission on her car broke down last year.
"The technicians at the shop – they really messed up my car," Sara explained. "They put in three different transmissions before they got it right. So I decided to learn how to fix cars myself."
Sara, who currently lives in Omaha, Arkansas with her father, started at OTC in the fall of 2017. She said the hour-long commute to school didn't bother her one bit.
"I've loved every second of my time at OTC – everything from getting up and driving that drive every morning to learning all about the automotive field. I love getting my hands dirty and figuring things out," she said.
Sara says there was never a moment where she hesitated to pursue a career in a male-dominated field. In fact, she hopes she can show others the importance of following their gut when it comes to pursuing dreams – even if that means breaking traditional gender stereotypes.
"People need to do whatever makes them happy – they shouldn't worry what others think," she said. "If you're a man who wants to be a hairdresser or a woman who wants to be an automotive technician – just do it! Life is too short. You have to do what you love."
In April, Sara will be honored at Missouri's annual Breaking Traditions awards ceremony. The event, held in Jefferson City, recognizes and rewards outstanding students for their achievements in nontraditional careers. Through the Breaking Traditions program, Sara will receive a $1,000 scholarship renewable for up to four semesters at OTC. Her automotive instructor, Eric Hammond, will accept the award on her behalf at the event.
"I am proud of Sara for forging a path in a male-dominated field," Eric said. "We need high-caliber individuals with a strong work ethic, like Sara, to lead by example. She demonstrates exactly what we can accomplish when we open our minds and remove long-held gender stereotypes and influences."