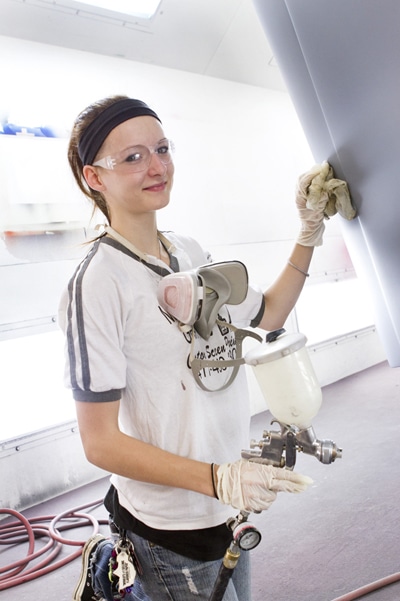 Taressa Johnson has been around cars almost all of her life.
Her grandfather operated car repair shops in Willow Springs, and the OTC student would spend hours with him as he worked in the garage.
"I got familiar with tools. My boy friends were mechanics. We'd talk about cars," said Johnson, who drives a 1986 Camaro that shes worked on.
That love for cars drew her to the College's Auto Collision Repair Technology Program, and as a non-traditional student of the automotive program, she recently won the state's 2012 Breaking Traditions Secondary Daphne Jones Spirit Award.
The state program is operated under the umbrella of the Missouri Center for Career Education. The program focuses on students who are considering or pursuing careers that are non-traditional for their gender and provides information and expertise in the areas of career awareness, exploration and planning. It offers support services for student who are enrolled in one of OTC's career/technical education programs.
"The award recognizes non-traditional students who are working toward careers traditionally held by members of the opposite gender," said Michele Charlebois-Didreckson, OTC's Breaking Traditions coordinator.
"It also shows students there is support to get thorough the unique situation they may come upon while in class. It gives them self-confidence and increased passion for their chosen career."
When Charlebois-Didreckson came to tell Johnson that she had won the award, Johnson was a little taken aback.
"I said to myself that I was either in trouble or something real good had happened," Johnson said, and when she was given the good news, "I thought she was kidding."
Johnson, who now lives in Springfield to attend classes, said she wants a career in collision repair but knows less than 15 percent of those in the profession are women.
But that doesn't deter her from continuing to work toward her dream career.
"The OTC program took away the fear of going into a shop. My gender is not generally accepted in a shop. Here, you learn without being criticized. It was scary at first, but I feel just fine, now," she said.
Steve Koehler is coordinator of media relations for Ozarks Technical Community College.
Contributors
College Director of Communications
Phone: 417.447.2655
Email: publicinfo@otc.edu
Steve Koehler
Coordinator of Media Relations
Phone: (417) 447-2666
Email: koehlers@otc.edu