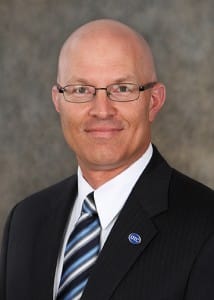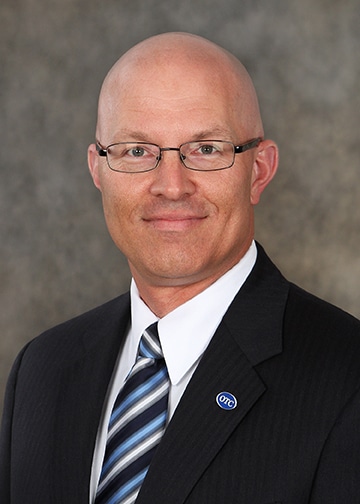 Pratt Community College names OTC Richwood Valley Campus President Dr. Jeff Jochems as 2015 Outstanding Alumnus of the Year. The following news release is from the Pratt Community College Foundation.
PRATT, KS ― On May 8, the Pratt Community College Foundation will honor Dr. Jeff Jochems, the 2015 Outstanding Alumnus of the Year. Jochems currently serves Ozarks Technical Community College as the inaugural President of the OTC Richwood Valley Campus in Ozark, Mo., and is an adjunct instructor in the Higher Education doctoral program at Lindenwood University. Jochems, a Pratt native, graduated from PCC in 1986 and went on to complete a bachelor's degree in management from Washburn University, a master's in higher education student personnel from the University of Kansas, and an Ed.D. in higher education leadership from the University of Arkansas.
Jochems' journey began in Pratt, sitting in accounting and calculus classes and playing on the baseball team under Coach B.D. Parker. He was a true student-athlete, and used his time on the field to do what he loved, while developing the skills that would make him successful after leaving PCC.
"One of our slogans at OTC is 'Start here, go anywhere'," says Jochems. "That captures what a community college is all about."
As a community college graduate and current president of a community college, Dr. Jochems is a vocal supporter of their value and continued importance.
"Community colleges are huge," says Jochems. "Education is the open door to so many other opportunities, whether it's further education at a university, or a career in a technical field. For many families, it's the only way out of poverty. Education is a huge economic development engine, and community college is the fuel that powers it."
For community college graduates, Jochems shares this advice:
"Enjoy the time; it goes fast. Never stop learning. Be adventurous, take a chance, step out from your comfort zone and have a little bit of curiosity. When I came to work for OTC it was a brand new college. I was fairly young and definitely outside my comfort zone. I took a chance, but it was one of the best decisions of my life."
Throughout his career, Jochems has served on the board of the Ozark, Mo., Chamber of Commerce and the Christian County Economic Development Committee's Executive Team. He is a member of the Taney County Economic Development Partnership and Ozark Rotary, and currently serves on the Missouri Community College Association's Presidents & Chancellors Council as well as the college's representative to the Missouri Coordinating Board for Higher Education. Jochems is married to Deborah, a department chair at Cox College, and has three children, Kalene, Kyle, and Kortney.
A public reception will be hosted by the family in the Delmar Riney Art Gallery from 10–11 a.m., and Dr. Jochems will give the keynote address at the commencement and nursing pinning ceremony beginning at 2 p.m. in the Dennis Lesh Arena.
The Outstanding Alumnus of the Year award was established in 1966 to honor alumni who have made contributions to career and community. For more information about this award or to nominate an alumnus, please contact PCC Foundation Director Ann Ruder at AnnR@prattcc.edu or 620.450.2179.