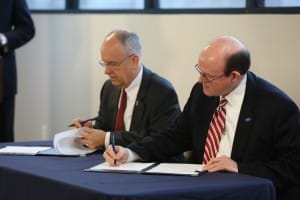 Students in the Table Rock area will soon be able to complete a Missouri State University bachelor's degree at the Ozarks Technical Community College Table Rock Campus. OTC Chancellor Hal Higdon and Missouri State President Clif Smart signed a memorandum of understanding today, Thursday, March 19.
The agreement makes it possible for students to complete a bachelor of science in communication or a bachelor of science in English with an emphasis in professional writing at Missouri State through a combination of seated courses at the OTC Table Rock Campus and online courses.
Missouri State classes at the Table Rock campus will begin in August 2015. OTC and Missouri State officials hope to expand the partnership to offer additional degree programs at the Table Rock campus in the future.
"These agreements continue the strong relationship between OTC and Missouri State," said Dr. Hal Higdon, chancellor of Ozarks Technical Community College. "By offering Missouri State bachelor's degrees at the OTC Table Rock Campus, we're providing students with the opportunity to continue their education at an outstanding university while staying close to home."
Missouri State President Clif Smart added, "We're very fortunate to have a community college partner like OTC. As a result of our successful partnerships in Springfield and Lebanon, we are pleased to take the next natural step and extend the benefits of our partnership to students in the Branson/Hollister area."
The OTC Table Rock Campus opened in August 2013 in Hollister, Mo. The four-story Robert W. Plaster Free Enterprise Center features general education classrooms and state-of-the-art computer, science and nursing labs. In addition to the new bachelor's degree programs offered through its partnership with Missouri State, the campus offers a variety of general education courses as well as adult education and literacy courses.