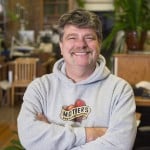 Springfield entrepreneur and publisher Jeff Schrag will be the recipient of the 2015 Excellence in Business Award, to be presented by Ozarks Technical Community College on Friday, April 10. The award ceremony will be held from 7:30-9 a.m. at the White River Conference Center, 600 West Sunshine Street in Springfield.
The event will include an exclusive conversation with Jeff Schrag about his entrepreneurial spirit and innovative business practices. Tickets are $25 and include a gourmet breakfast; visit otc.edu/excellenceinbusiness or call (417) 447-2651 to reserve seats.
Jeff Schrag, 48, was born in McPherson, Kan. and graduated from Kansas State University with a bachelor's degree in journalism and social science. Schrag came to Springfield in 1995 after purchasing the Daily Events legal newspaper. In 2007, he purchased the Pioneer Formal Accessories Co. and is now the largest wholesaler of cufflinks in the United States. In 2011, he created Mother's Brewing Company, a craft beer business that distributes its products throughout the region and in several states.
Schrag is also president of Bareham & Saunders LLC, Squires Properties Inc., Foster-Keen Construction LLC, and CollinCo LLC. He is the outgoing chairman of the Springfield Area Chamber of Commerce Board and is a member of the Missouri Press Association, the Downtown Springfield Community Improvement District, the Springfield Business Development Corporation, the City of Springfield TIF Commission, the Missouri Small Brewer's Guild, the Brewer's Association Finance Committee, and the Community Foundation of the Ozarks Mission Related Investments Committee.
Recipients of the Excellence in Business Award are selected based on the following criteria: leader of an Ozarks regional business, entrepreneurial success, innovative business growth, ability to overcome challenges with integrity, supporter of educational development, customer-driven quality, and community achievement. Past recipients of the award include Jim Anderson, Paul Sundy, John Q. Hammons, members of the O'Reilly family, Jack Stack, Bill Turner, Carol Jones, Sam Hamra, and Jack and Peter Herschend.