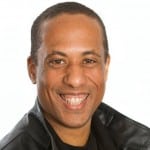 Jon Herbert, OTC theatre instructor, was inducted as a 2015 Mid-America Theatre Conference fellow during the 26th annual Mid-America Theatre Conference held March 19-22 in Kansas City, Mo.
The MATC honors a select number of members who make exemplary contributions to theatre. Honorees are inducted at the conference as MATC fellows for life. Herbert was one of five inductees honored in 2015. Only 19 fellows have been inducted since the conference's inception in 1979.
Herbert has attended the MATC regularly since 2006. In 2007, he became actively involved in the conference's playwriting symposium and eventually served as chair of the symposium in 2010 and 2011. Herbert has also acted and directed in numerous plays for the symposium's dramatist lab. Three of Herbert's plays have been workshopped and presented at the MATC.
Herbert has taught theatre and drama for the OTC Fine Arts Department since 2007. In addition to teaching full time and advising students, he directs and manages the college's mainstage productions at the Gillioz Theatre. Herbert also serves as faculty advisor for his students' organization, "Overpriced Coffee," which produces original student work.
Herbert earned his master's degree in theatre from Missouri State University and his bachelor's degree in theatre performance from the University of Missouri.