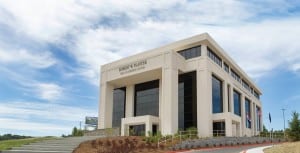 Ozarks Technical Community College invites local high school students and their families to OTC 101, an open-house event at the OTC Table Rock Campus on Tuesday, Feb. 17 from 5:30-7:30 p.m.
The event gives prospective students and their families the opportunity to learn more about OTC's academic programs at the Table Rock campus through face-to-face interaction with faculty and staff.
"The OTC Table Rock Campus is still relatively new to the area," said President Cliff Davis. "We want prospective students to know that OTC will provide a personalized, top-notch educational experience that's close to home."
At OTC 101, local experts will lead informational sessions about the admissions process, academic programs, financial aid applications and scholarship opportunities. A fully staffed computer lab will be available for students to begin the admissions process, and OTC student ambassadors will offer tours of the campus.
For more information about OTC 101 at the OTC Table Rock Campus, please contact Autumn Porter, student services coordinator, at (417) 447-8926 or portera@otc.edu.
Contributors
Mark Miller
College Director of Communication
Phone: 417.447.2655
Email: millerm@otc.edu
Laura French
Coordinator of Public Information
Phone: 417.447.2659
Email: frenchl@otc.edu