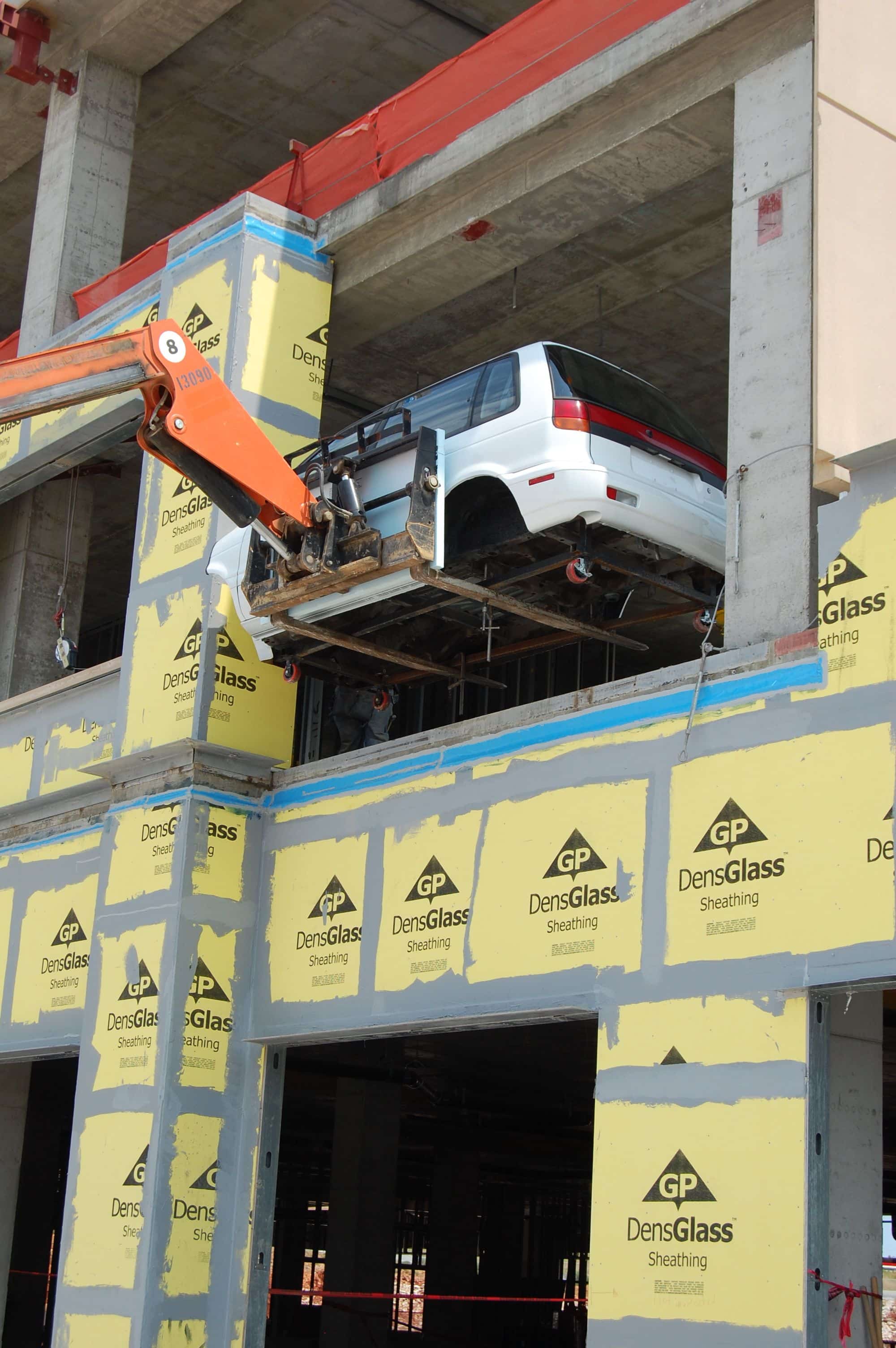 At first glance, it's hard to imagine that the remains of the gleaming white vehicle could be good for anything.
But thanks to some talented OTC students, working in partnership with Mercy Hospital, the new Mercy Orthopedic Hospital being constructed at U.S. 65 and Evans Road now has a unique new piece of rehabilitation equipment.
Mercy, which opens the new facility next year, took delivery last week of a white SUV that was customized for use by orthopedic patients who will need training in getting in and out of a vehicle.
"Returning to routine activities like getting into a car can create anxiety for patients after major knee and hip replacement surgeries," said David Globig, Mercy Springfield vice president of operations. "The car will assist our orthopedic team in ensuring every patient is comfortable before they return home."
The vehicle was hoisted through an opening that eventually will become an outside wall on the third floor of the facility. The SUV is on rollers and can be moved as work in the rehab room continues.
The father of a student donated the vehicle to OTC after it stopped running. It was repaired by OTC automotive students and used for a time by OTCs Safety and Security. Then, it was turned over to the automotive and welding programs.
Mercy officials contacted Kerry Wrinkle, chairman of the Colleges Transportation Department, about converting the vehicle into a piece of rehab equipment and students in welding and automotive collision repair worked on it during the spring semester.
The axles, tires, engine, engine compartment and transmission were removed and rollers added to allow for it to be moved easily.
Globig says Mercy is thankful for all the time, energy and resources the students put in to the project.
"It was a win-win for OTC and Mercy," Wrinkle said. "The students in a number of automotive and welding programs were able to use the renovation project as a way to learn more about their fields of study, and Mercy has a new piece of equipment they can put to use for their patients. We were happy to help."
Steve Koehler is coordinator of media relations at Ozarks Technical Community College.
Contributors
College Director of Communications
Phone: 417.447.2655
Email: publicinfo@otc.edu
Steve Koehler
Coordinator of media relations
Phone: (417) 447-2666
Email: koehlers@otc.edu