One might think a career in Early Childhood Development would be a complete departure from a career in the U.S. military, but OTC student William Nelson insists that both of his careers share important themes.
"The Army is all about building confidence, strength and leadership ─ so is Early Childhood Education," he said.
William is a practicum student in OTC's Early Childhood Development program. He recently retired from the military after serving for 21 years as a member of the U.S. Army Air Defense. He hopes to one day become a paraprofessional in an elementary classroom to assist children with disabilities.
William says that his Early Childhood career wasn't always part of the plan. However, after he retired from the Army in 2013, William discovered that finding a new career was harder than he originally thought it would be.
"Back when I was applying for job after job, I kept hearing, 'We love your military experience, but you need a degree.'" he explained. "Everyone was telling me I needed a degree. So then, I was caught up in what kind of degree I ought to pursue."
William, a devoted husband and father of two, credits his 24-year-old daughter, Shelby, for opening his eyes to what some might call his surprising new career choice.
"She looked up at me one day and said, 'Dad, you're so good with kids, you should get a degree in it," he recalled. "And I think that's one of the biggest things when I'm working with these kids at OTC ─ I see my own children when they were this age. And for me, that's so rewarding because I was often away from my wife and kids during my military career."
At OTC, students who pursue an Associate of Applied Science in Early Childhood Development receive hands-on practicum training through the Lewis Family Early Childhood Education Center. The center is an on-campus childcare facility for children ages 2-5. It is licensed through the Missouri Department of Health and Senior Services.
William just completed his second semester of practicum through the center, and the instructors who worked closely with him were quick to praise his skills and abilities.
"He's a natural," said Susan Forte, OTC Early Childhood Education teacher. "When he walks into the room, all of the kids go running to him. At lunchtime, everyone wants to eat with him, so William moves his chair every two minutes so he can sit by each child."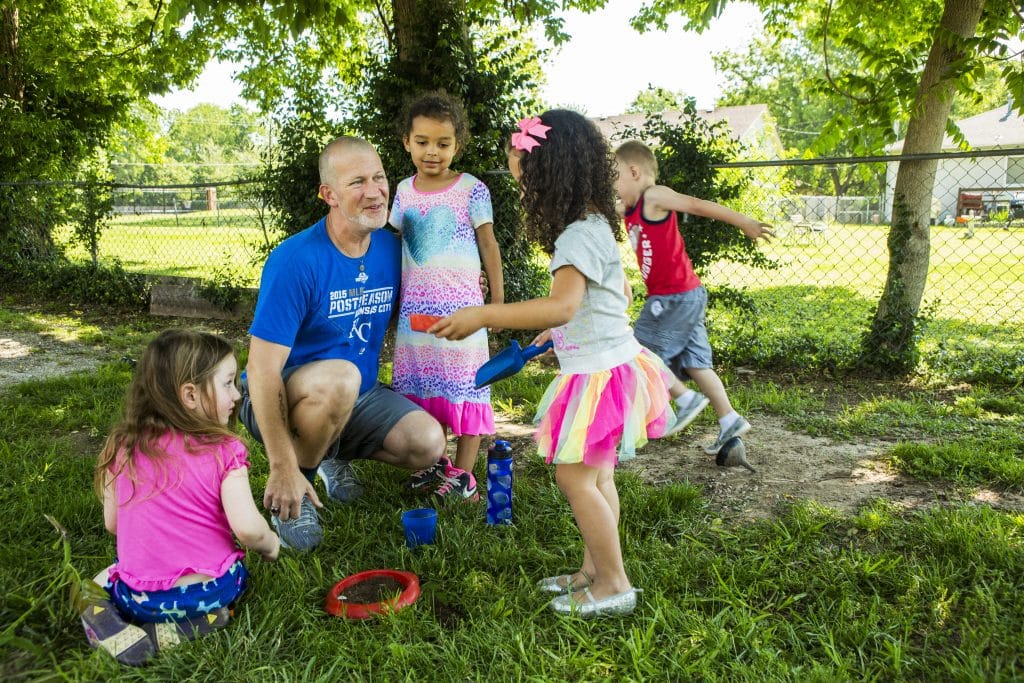 Susan also shared that both teachers and students alike appreciate his strong male presence in the classroom.
"It's especially important for students who might not have a positive male role model at home," she added. "He's incredibly patient. He works so well with the kids to resolve their conflicts in a calm and quiet manner."
In the United States, more than 97 percent of preschool and kindergarten teachers are female, but that fact didn't deter William from entering the field.
"One of the great things about the Army is that it taught me to work with a melting pot of people and cultures," he explained. "I had plenty of female bosses, and all my fellow soldiers came from different walks of life."
Once William graduates with his Early Childhood Development degree, he plans to stay in southwest Missouri to begin his career. And, if he catches a strange glance or a question about why he would want to work with preschoolers in a female-dominated profession, he's ready with an answer.
"I get to be that person who helps these children grow and develop and learn at a crucial age," he said. "It's a huge responsibility, and I'm up for the challenge."