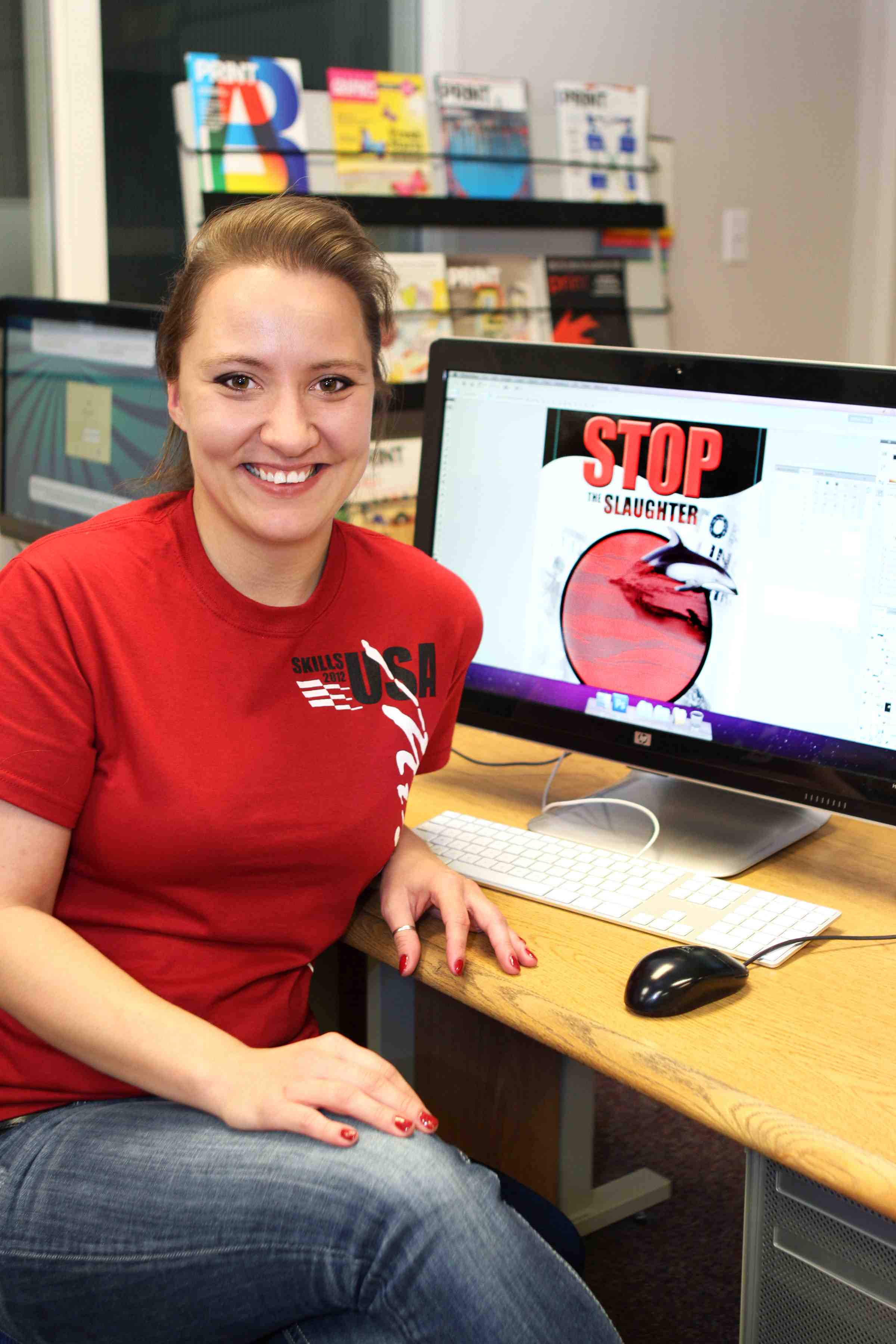 Inspiration is what drives Kateryna Wedlock in her quest to be the best graphic artist she can be.
And her inspiration and skills will be put to the test later this month when the OTC student competes in the national Skills USA competition in Kansas City as she tries to win a medal in competition with other winners from across the country.
SkillsUSA is a national organization serving trade, industrial, technical and health occupation students in high schools and community colleges.
Wedlock is one of 29 OTC students who have advanced to the nationals and head to Kansas City June 23-27.
"There is a vast array of OTC programs and classes represented at nationals," said Don Reeves, OTC's faculty sponsor for the SkillsUSA group. "We couldn't have had winners without strong instructors."
Reeves, after 21 years as the college's sponsor, is taking his last group of OTC students to nationals. Reeves is retiring from OTC.
Wedlock, who is from the Ukraine, came to OTC to study graphic arts after hearing about the college when she was an exchange student in Branson. In fact, it was the promotional ads that she saw on the racks in Branson stores and shops that piqued her interest in the program.
"I was fascinated with the ads and heard that it was Photoshop software that was used. I enrolled in OTC and enjoyed being surrounded by people so passionate about the same thing. They are inspiring, creative people," she said.
Wedlock, 24, advanced through local, district and state competitions to advance to the national meet, where she will face off with others in the top two percent of their chosen field.
Wedlock's winning entry in the competition was a striking red, white and black poster designed to protest the slaughter of dolphins by Japanese fishermen. She has also designed the T-shirt Missouri students will wear in the competition.
At the nationals, however, Wedlock will have to be quick on her feet. She will have to take a rigid written test on graphic arts theory and then create a brand new logo and promotional flyer for a fictional company.
"I have eight hours to create multiple versions of both," she said.
Wedlock will be interning in Italy after the competition and then return to OTC in the fall.
"I'll be so happy to return and finish my studies and then maybe return to Europe to work," she said.
Steve Koehler is coordinator of media relations at Ozarks Technical Community College.
Contributors
College Director of Communications
Phone: 417.447.2655
Email: publicinfo@otc.edu
Steve Koehler
Coordinator of Media Relations
Phone: (417) 447-2666
Email: koehlers@otc.edu