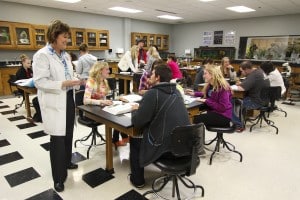 Local professionals who are interested in becoming part-time instructors for Ozarks Technical Community College can learn more about teaching opportunities on Saturday, March 21 from 9 a.m. to 1 p.m. at the Adjunct Faculty Career Fair at the OTC Springfield Campus.
The college is recruiting general education and technical instructors to teach part-time at all five of its locations in Springfield, Richwood Valley, Table Rock, Lebanon and Waynesville beginning in summer 2015. Online positions are available as well.For general education courses, such as chemistry or math, adjunct (also known as part-time) instructors should have at least 18 graduate-level credit hours in the discipline they seek to teach. For technical disciplines, such as construction or computer programming, instructors should have at least five years of practical experience. Some teaching experience is desirable.
"At OTC, we value instructors who have training and practical experience," said an OTC human resources representative. "Instructors who bring academic knowledge and work experience into the classroom can enhance student learning. As a lot of our students also work, we feel that working professionals can bring applicable situations and real-world examples that will be even more salient to our student body."
OTC adjunct instructors start at $714 per credit hour; this amount increases up to $969 per credit hour based on years of service to the college. Conveniently, many of the course opportunities are taught online or after working hours. Interested candidates should bring a completed OTC application, resume, unofficial undergraduate and graduate transcripts, and any certifications or licenses to the career fair.
Visit otc.edu/jobs for more information. Additional questions may be directed to OTC Human Resources at 417-447-2632 or jobs@otc.edu.
Media Contact
Mark Miller
College Director of Communication 417.447.2655 millerm@otc.edu
Laura French
Coordinator of Public Information 417.447.2659 frenchl@otc.edu