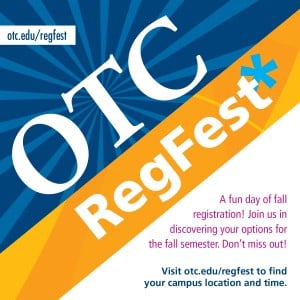 Current and prospective Ozarks Technical Community College students are invited to prepare for the upcoming fall semester at RegFest ― a one-stop registration event designed to help students plan and enroll in classes. OTC RegFest will be held at the following OTC campuses and centers this month.
OTC Table Rock Campus
Thursday, July 16 from 11 a.m. to 7 p.m.
OTC Springfield Campus
Thursday, July 23 from 10 a.m. to 6 p.m.
OTC Waynesville Center
Thursday, July 23 from 9 a.m. to 6 p.m.
OTC Lebanon Center
Thursday, July 23 from 10 a.m. to 6 p.m.
*RegFest at the OTC Richwood Valley campus has been canceled due to a power outage. 
RegFest is a drop-in event for students and their families. OTC admissions, advising, financial aid and student services staff will be on-hand to guide students through the entire registration process. Students should bring valid picture identification, high school and college transcripts, and 2014 tax information, which will be used when applying for financial aid. RegFest also includes free food and prizes.
"Our goal is provide students with everything needed to complete the entire registration process," said Joan Barrett, vice chancellor for student affairs. "RegFest creates a one-stop shop for students while introducing resources that can help facilitate their future success at OTC."
For more information about OTC RegFest, please contact Vicki MacDonald, admissions representative, at macdonav@otc.edu or 417-447-2662. OTC's fall semester begins Monday, Aug. 17.