Thanks to a $4,500 grant from one of the oldest service clubs in the nation ─ Sertoma Inc. ─ OTC students who are deaf or hard of hearing can access a new technological device on campus that will help them easily communicate with staff, students and instructors.
The device, called an UbiDuo, is a communication tool that consists of a full-size keyboard and a small split screen, which displays messages that are typed back and forth between two participants in real time. UbiDuos are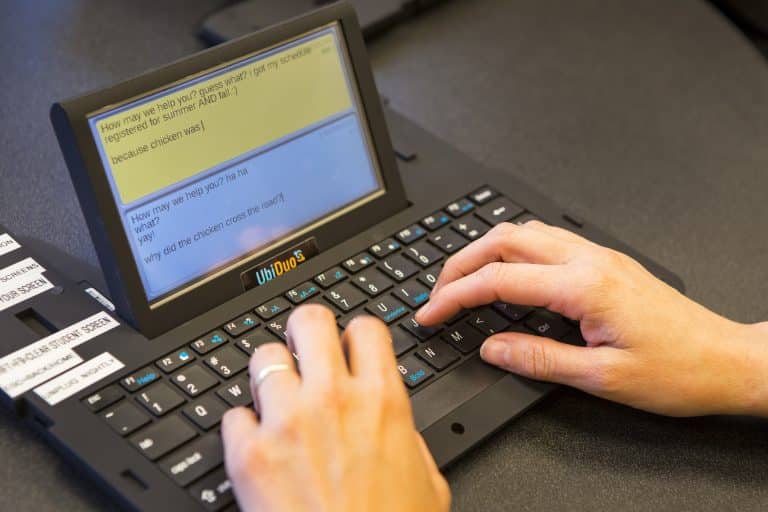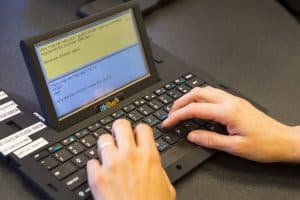 considered the world's foremost communication solution for people who are deaf or hard of hearing.
The grant ─ sponsored by the local club, Heart of the Ozarks Sertoma ─ allowed the college to purchase two new UbiDuos for the OTC Springfield Campus. One UbiDuo will be placed in the Cashier Services office, and the other will be housed in the Student Services department.
The college's Disability Support Services department previously owned one UbiDuo, but that device was nearly 15 years old. Melissa Jones, OTC's deaf education specialist, said she looks forward to sharing the new UbiDuo devices with OTC's deaf and hard-of-hearing population.
"The new models are smaller, faster and more lightweight. They also come with a color touchscreen," Melissa said.
Every semester, the college enrolls approximately 5-20 students who are deaf or hard of hearing. Gloria Fleming, a first-year student at OTC who is deaf, says the devices will be especially helpful when she needs to discuss her account with Cashier Services staff or review important Financial Aid documents in Student Services.
"I have an app that helps me communicate with hearing individuals, but it doesn't always work well ─ especially if I'm in a high-traffic or noisy environment," she said. "The UbiDuos are perfect and easy to use."
Gloria came to OTC with big goals in mind. She is working toward an associate degree with plans to transfer to Missouri State University to earn a bachelor's degree in business and a minor in psychology.
"After I graduate, I want to open a coffee shop and hire people who usually cannot work due to a condition or disability," she said.
Gloria has worked with individuals with disabilities since she was in high school. She says that providing them with a rewarding job experience will help boost their confidence and self-esteem.
"I want to provide a feeling of normalcy, even if it's just for one hour," she said. "My employees might not always appear normal to the world, but they are normal in my eyes."
Gloria credits much of her success at OTC to the assistance and support she receives from the college's Disability Support Services department.
"DSS has been a great resource for me," said Gloria. "If I have an issue arise in class, I can go to DSS to get it resolved quickly."
Disability Support Services provides more than just UbiDuos for its deaf and hard of hearing population. Students may also receive assisted listening devices, sign language interpreters, preferential seating in the classroom, or volunteer note takers.
"A person who is deaf cannot look at the instructor and the interpreter and take notes at the same time," Melissa explained. "That's why preferential seating or volunteer note takers play an important role."
Melissa added that getting to witness the success of her students is easily her favorite part of the job.
"It's a great feeling, knowing that the resources we provide to our students, like the new UbiDuos, will help them succeed in the classroom and beyond," she said. "Whether it's getting a good grade in a class or graduating or simply feeling a sense of empowerment, I love celebrating each and every success with them."