SPRINGFIELD, MO — Ozarks Technical Community College donor and Foundation board member Jim Towery received the Missouri Community College Association's Award of Distinction at the association's 53rd annual convention held this week in Branson, Mo.
Towery, the former owner of Steelman Transportation in Springfield, has been a strong advocate for the college's transportation programs. A long-time member of the OTC Foundation Board, Towery served as chair in 2016 and helped secure the funding necessary to expand the college's diesel technology training center, a $2.1 million project. Throughout the fundraising period, Towery rallied support from several local truck dealerships and trucking companies. Most notably, he secured the financial gift that confirmed naming rights for the training center expansion.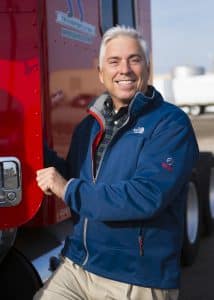 A native of southern California, Towery graduated from the University of Colorado in 1983 with a bachelor's degree in business administration. Towery moved to Springfield in 1989 to open United Roofing Supply. After 21 years in the wholesale roofing supply business, Jim sold what is now ABC Supply Company. In 1998, Jim and Brett Sheets purchased Steelman Transportation, a long-haul flatbed trucking company with 35 trucks. After years of internal growth and three small acquisitions, Steelman's fleet consisted of more than 90 tractors and 140 trailers that carried a diverse freight mix throughout the contiguous United States, Canada and Mexico. In July 2017, Steelman became part of Daseke, the largest flatbed trucking company in North America.
MCCA's Award of Distinction is presented annually to individuals who have demonstrated sustained service and commitment to their local community college. It is one of the highest honors the Association's membership bestows.
###