SPRINGFIELD, MO — Ozarks Technical Community College alumnus Andrew Hedgpeth received the Missouri Community College Association's Distinguished Alumni Award at the association's 53rd annual convention held this week in Branson, Mo.
 Hedgpeth currently serves CoxHealth as vice president of human resources. He obtained his Associate of Arts from OTC before graduating from Missouri State University in 2005 with a bachelor's degree in psychology. He eventually went on to earn a master's degree in business administration with a healthcare management emphasis from Missouri State.
As an inaugural recipient of the A+ Scholarship program, Hedgpeth is a champion for OTC and its mission. He credits much of his professional success to the education he received at OTC.
"OTC and the A+ Scholarship were a way out of poverty for me," he shared in his commencement address at the college's 2017 graduation ceremony. "I am living proof that when individuals and institutions invest in someone, doors can open for that individual in ways never before imagined."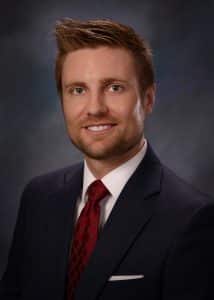 In his current role as vice president of human resources, Hedgpeth serves as an active member of the CoxHealth executive leadership team where he provides strategy, planning and implementation of human resources programs to meet the strategic business goals for CoxHealth's 11,000 employees and 600 physicians.
The MCCA Distinguished Alumni Award is presented annually to exceptional individuals who have attended a Missouri community college. It is one of the most prestigious awards presented by the membership of the Association.
###