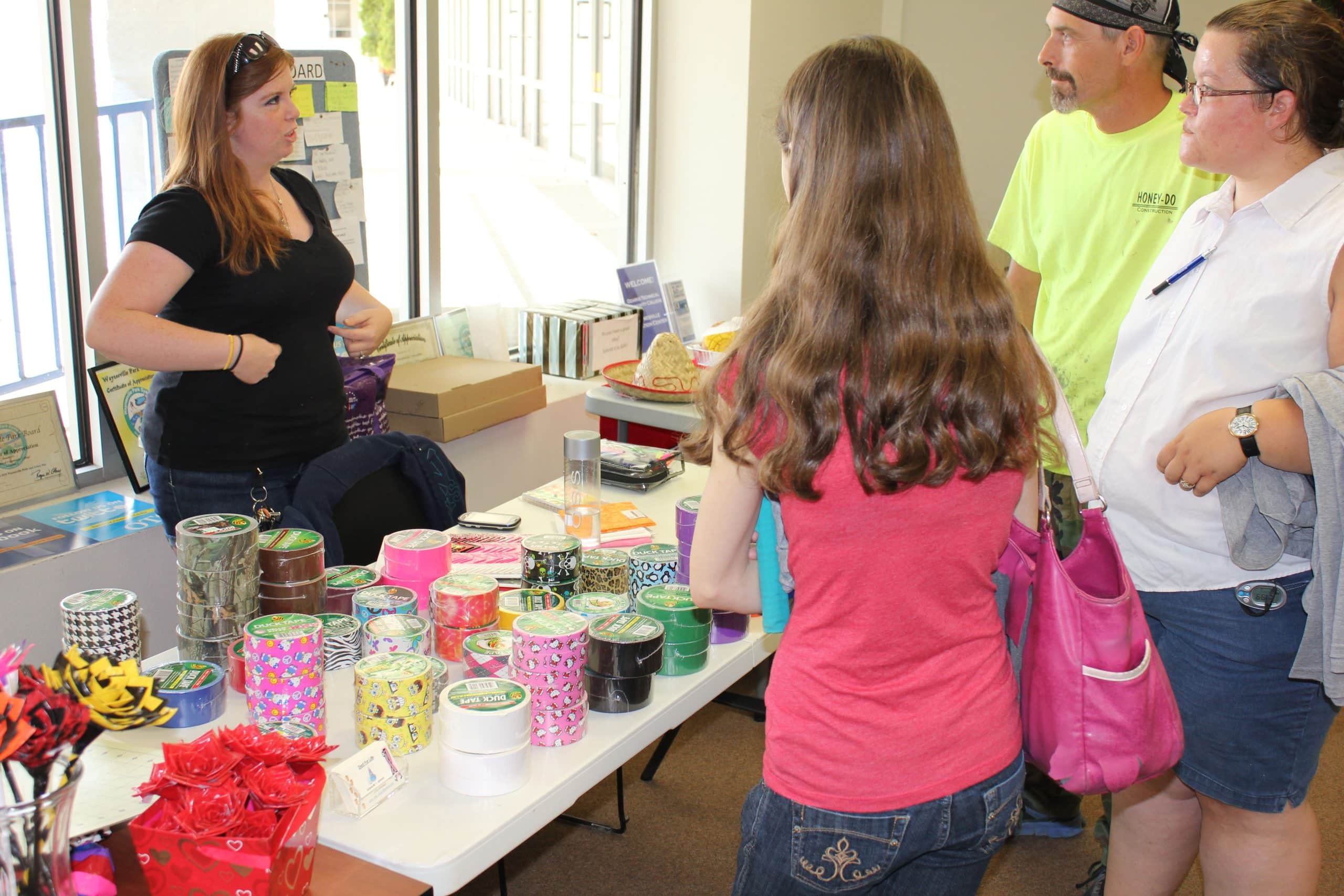 It may just be a flower made out of duct tape to some but to Victoria Johnson, it symbolizes much more.
Johnson, who just graduated from OTC after taking classes at the Waynesville Center, has been selling her handmade duct tape items for about a year. The money she makes for the sale of her goods goes to the local chapter of Relay for Life.
Johnson's business is called Duct for Life and is dedicated to her parents, both of whom were diagnosed with cancer. Her mother is in remission from thyroid and colon cancer since she was diagnosed in 2005. Her father was diagnosed with an undisclosed form of cancer in 2008.
"I felt when my mom was first diagnosed, I was too young to do anything. I wanted to find a way to help them both and I also wanted to help others," she said
Johnson, who was a teenager when her mother was diagnosed, started participating in the Relay for Life fundraisers, getting donations for walking.
She felt she needed to do more. When a friend showed her last summer how she made things out of duct tape, Johnson decided to give it a try.
"She showed me once and I just started making them. I still have the first rose I made. It reminds me of what I'm trying to do," she said.
She started with some simple flowers made in purple, the official color of Relay for Life. She sold some at last year's event. Now, Johnson's work has expanded to include all sorts of items, including handbags, wallets, roses, hair bows and checkbook covers. The tape on each item is neatly folded, creased and cut.
She has nearly 40 different duct tape prints, everything from argyle to the image of SpongeBob Squarepants to camouflage.
Johnson said she has sold several hundred dollars' worth of items since she started doing it seriously for the last year. Most of the time, she sets up a small table in the center's atrium to sell her items. The items can also be ordered from Johnson's Facebook page at www.facebook.com/DuctForLife
Johnson graduated from OTC in the spring with a transfer degree in psychology and will continue her education at the Waynesville center, taking courses through a collaborative agreement with Central Methodist University.
"OTC has been very helpful to me with my education and this project. It's been a great experience for me," she said.
Contributors
College Director of Communications
Phone: 417.447.2655
Email: publicinfo@otc.edu
Steve Koehler
Coordinator of Media Relations
Phone: (417) 447-2666
Email: koehlers@otc.edu