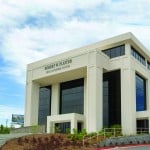 Branson residents will benefit from in-district tuition at Ozarks Technical Community College after Tuesday's election. Branson voters agreed to join the OTC taxing district by a 61 percent to 39 percent vote.Beginning with summer 2015 classes, students in Branson will pay the in-district tuition rate of $95 per credit hour versus the out-of-district rate of $142.50.
"We're thankful that Branson voters see the value of joining the district," said Dr. Hal Higdon, chancellor of Ozarks Technical Community College. "The dream of attaining a degree is now more affordable for Branson residents, and it will help the community to continue to develop a strong workforce."
OTC Table Rock Campus President Cliff Davis welcomed Branson residents to the district, "Every great community has a great community college. With Tuesday's vote, OTC can strengthen its current programs and look to provide new opportunities for students seeking medical and technical education. Thank you, Branson, for your support."
Recently, OTC and Missouri State University signed a memorandum of understanding that will allow students to earn an associate degree from OTC and a bachelor's degree from MSU in either communication or technical writing at the OTC Table Rock Campus. Additionally, in March, OTC and Hollister School District officials signed an agreement that will allow Hollister High School upperclassmen to attend classes at the OTC Table Rock Campus with the opportunity to obtain an associate degree from OTC when they graduate from high school.
OTC summer classes begin on June 1. Students interested in enrolling can call the OTC Table Rock Campus at 417-336-6239 or visit otc.edu/register.